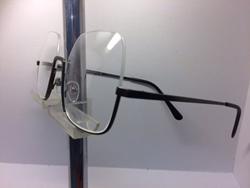 BOLTON, United Kingdom (PRWEB) December 04, 2020
Bowden Opticians have been supplying prescription snooker glasses online since 1997.
The very first pair sold was to a professional snooker player from Hong Kong, before Google days and ecommerce.
Upside Down Snooker glasses were popularised in the 80's by Dennis Taylor, they are designed in such a way as to allow optimum table top performance for snooker players requiring a prescription.
With very limited choice in the market and lack of products available, Bowden Opticians have now launched their very own brand, designed with Snooker Players and Pool Players in mind.
The Bowden Opticians Snooker Glasses Model Mark, comes in two colours gold and gunmetal, with a semi rimless construction at the top to prevent distractions from the frame.
Currently available with an anti reflective coated lens, this prevents excessive glare from the bright lights above the snooker table.
Bowden Opticians has already received great feedback from thankful snooker players who now have crystal clear vision whilst playing snooker and gives them an edge over their competitors.
For more information on the snooker glasses visit Bowden Opticians at https://www.bowdenopticians.co.uk