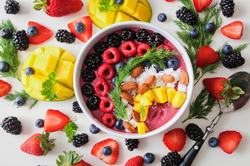 Healthy food choices are some of the most important factors to maintaining a well-balanced life and it's our service standard to supply the freshest fruits, vegetables, and other prepared menu items for our customers. We proudly stand behind our high-quality ingredients
ORLANDO, Fla. (PRWEB) December 09, 2019
Based in Orlando, FL Organic Innovations Group, LLC is excited to announce its fresh new concept coming soon to Orlando; Bowls & Berries Café. Bowls & Berries Café is an alluring fast casual lunch café with high-speed internet and a one stop meeting destination for families and professionals alike.
The café will be the first of its kind to offer different ordering stations to cater to the customer's need and pace ranging from traditional face to face service, app ordering and pick up, self-service kiosks, and a drive-through option to make the customer's experience more accommodating.
"We couldn't be more thrilled to bring Bowls & Berry Café to the Central Florida area. Healthy food choices are some of the most important factors to maintaining a well-balanced life and it's our service standard to supply the freshest fruits, vegetables, and other prepared menu items for our customers. We proudly stand behind our high-quality ingredients," states Alex Reece, founder of Organic Innovations Group, LLC. "We make sure that the items we serve are not only great tasting, but are incredibly healthy as well. We expect to see our customers become regular faces at the café."
About Bowls & Berries Café
Bowls & Berries Café is set to break ground in 2021-22. Organic Innovations Group, LLC has called on Studio41b - a design/architecture firm that has completed projects for several other distinguished companies, to construct the café's unique feel. The café will have free high-speed wi-fi, in-table charging stations, shared and semi-private meeting spaces that will be available to their customers. Along with sandwich and salad options, the menu will feature 7 healthy smoothie based bowls (Acai, Pitaya, Banana, Mango, Spirulina, Oatmeal and Kale), Grade 1 Specialty coffee, avocado toasts and more.
About Organic Innovations Group, LLC
Organic Innovations Group, LLC is headquartered in Orlando, FL and specializes in innovative restaurant, family amusement, and retail projects.