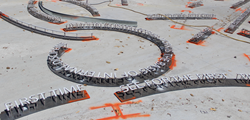 "Creating a public art project of this magnitude and importance required an exceptional artist and Kamau was not only gifted from a creative perspective, but his commitment and method in working with our students and staff to truly collaborate was key to the overall success of this project.
PALO ALTO, Calif. (PRWEB) August 21, 2019
Bowman School, an internationally recognized, Montessori-accredited school located in Palo Alto since 1995, today announced the completion of a new public work of art located in the concrete walkways of its new Learning Village site. Created by renowned artist Kamau Patton, in collaboration with Bowman students, the new art work was inspired by Maria Montessori's 10 "Human Tendencies" and features stainless steel words and symbols embedded into multiple sidewalks allowing students, teachers and parents to literally touch upon these values every day as they enter and exit the school. The extensive project was curated by Jim Ricks and the art work will be officially unveiled at the grand opening of Bowman's Learning Village site, located on Arastradero Avenue in Palo Alto, on September 7, from 2:00 – 5:00 pm.
The scale and proportion of the design are significant, with more than 25,000 square feet of space and more than 2,000 letters and symbols that can't be seen in one viewing, but require walking through the campus to capture the full vision. The collaborative process between artist and students included every step of the process from the beginning design phase, through multiple iterations, going to metal fabricator, Chambers Art and Design in Oakland, and the final installment at the school.
"Creating a public art project of this magnitude and importance required an exceptional artist and Kamau was not only gifted from a creative perspective, but his commitment and method in working with our students and staff to truly collaborate was key to the overall success of this project," said Mary Beth Ricks, Head of Bowman School.
"The final result reflects the core values of the Montessori way and the involvement of our students clearly demonstrates the power and application of these values in real-life action."
"Public art is meant to have impact on a community and our goal was to create a piece that would instill a lasting impression on students, parents, teachers and other visitors as they move through the Learning Village, making them aware and mindful of the core principals of learning," said Kamau Patton, artist. "Working with the Bowman students was not only critical to the success and outcome of the project, but a complete joy for me as an artist. To see these students, each with individual perspectives, acknowledge the differences in their approach as something to be celebrated and embraced, and to learn from one another without losing their individuality, was actually reflective of the words and symbols we were using in the art project and the learning environment they have at Bowman School."
City of Palo Alto Public Art Program
The City of Palo Alto passed the Art in Private Development ordinance in 2014, which requires commercial developments to contribute to public art by commissioning artwork on their site or giving monetary support to the Public Art Fund. The goal of this program is to promote the highest caliber of artwork, commission memorable public artworks and experiences that stimulate discussion and thoughtful reflection, and celebrate Palo Alto's character, while enhancing civic pride and sense of place.
With the Learning Village site project, Bowman School chose to create their own original public art allowing students to have a unique learning experience, while also providing something symbolic and enduring to the school and local community. While this required additional time, effort, proposals and approvals, the result represents a true convergence of Montessori thinking with engaging art and shows the power of public art to provoke thought and have a lasting impact. The school selected Jim Ricks as curator of the project and Kamau Patton as the artist.
About the Artist, Kamau Patton
Kamau Amu Patton is an interdisciplinary artist and art educator. His work is an examination of culture through engagement with archives, documents, stories and sites. Patton's projects are dialogic and take form as expanded field conversations. Patton received his MFA from Stanford University in 2007 and is a graduate of the University of Pennsylvania, in Sociology. His work was shown in 2012 as part of Pacific Standard Time and in 2013 as part of the "Machine Project Field guide to L.A. Architecture". Patton has completed projects in soundscape studies through support provided by the State University of New York at Buffalo, the Mellon Elemental Arts Initiative and the Tang Teaching Museum. Patton presented research in 2016 at the ABF house in Stockholm, Sweden as a part of "The Shape of Co- to- Come" symposium and exhibition. Patton participated in a series of performances as part of "Projects 107: Lone Wolf Recital Corps", at the Museum of Modern Art in August 2017. In September 2017 he began a two year project "Tel", hosted at the Tang Museum. His work was shown in 2019 at the Berkeley Art Museum Pacific Film archive as part of the exhibition, About Things Loved: Blackness and Belonging. Patton's work was included in the 2019 exhibition/ symposium, Add to the Cake: Transforming the Roles of Female Practitioners, at Kunstgewerbemuseum in Dresden, Germany and as part of the ONTOPO project at Ryan Lee gallery in New York. Patton will be an artist in residence at Storm King Art Center in New York in September 2019.
About Bowman School
Bowman School is an innovative, accredited, internationally recognized Montessori program serving PK – 8th grade students in Palo Alto, Calif. Founded in 1995, the independent, non-profit school provides an academically rigorous program in a self-directed and individual learning format. Bowman helps students build a strong foundation for life-long decision making, problem solving and critical thinking as they develop a sense of responsibility, independence and self-confidence about themselves and the world around them. More information can be found at http://www.bowmanschool.org.