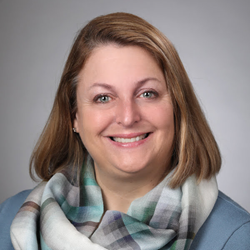 The leadership skills of everyone at Bowman School are based on the inherent values of Montessori and I am honored to be part of the team that not only guides the success of our school, but also supports the larger Montessori community around the world."
PALO ALTO, Calif. (PRWEB) December 16, 2020
Bowman School, an internationally recognized, Montessori-accredited school located in Palo Alto for 25 years, is receiving global recognition for the outstanding leadership of its Head of School, Mary Beth Ricks. Ricks has not only successfully guided Bowman School through the challenging global pandemic crisis closure and reopening phases, and developed a completely new hybrid educational model, but has also shared her detailed plans and processes in an effort to help other Montessori schools and leaders around the globe. She was recently a speaker at the International Montessori Council's Annual Conference where she discussed these resources, and offered key protocols that have helped her students and staff stay safe, engaged and mentally strong, whether in virtual learning or on-campus environments.
During the COVID-19 pandemic, Ricks led her team to develop four critical plans: A closure plan, a plan for reopening, process and protocols for reopening and a travel planner guide for families and staff to help keep everyone safe. Bowman's Four Stage Response Plan and Five Stage Reopening Plan were developed with a Health Care Task Force comprised of parents working in the medical and science fields, and shared with national and international Montessori organizations to help guide their efforts, and serve as the standard for success. Ricks was selected to serve on the International Montessori Council (IMC) Collaborative Montessori Response Team that was developed at the start of the COVID-19 crisis. She was also interviewed by multiple California news stations on the state's waiver process for academic institutions and Bowman's application experience.
"Leadership during COVID-19 has required quick assessments, pivoting our entire educational process in less than 24 hours, and utilizing our strong team of internal and external supporters to help develop plans and processes that keep everyone safe, while also staying true to the Montessori method of teaching," said Mary Beth Ricks, Head of School for Bowman School. "The leadership skills of everyone at Bowman School are based on the inherent values of Montessori and I am honored to be part of the team that not only guides the success of our school, but also supports the larger Montessori community around the world."
Mary Beth Ricks Accomplishments
Ricks is a graduate of Purdue University and has been the Head of School for Bowman since 2008. She has been a member of the American Montessori Society (AMS) since 1995, serves as a mentor with their Emerging Leaders Fellowship and was recently elected to serve on their Board, helping lead this organization with 16,000 members from 70 countries. She has been a member of the International Montessori Council (IMC) since 1995 and is currently the Co-Chair of the Accreditation Commission. Ricks is also President of the Bay Area Montessori Association, a personal mentor to multiple schools, a frequent speaker at Montessori events, and has written numerous articles on leadership and strategic planning.
About Bowman School
Bowman School is an innovative, accredited, internationally recognized Montessori program serving PK – 8th grade students in Palo Alto, Calif. Founded in 1995, the independent, non-profit school provides an academically rigorous program in a self-directed and individual learning format. Bowman helps students build a strong foundation for life-long decision making, problem solving and critical thinking as they develop a sense of responsibility, independence and self-confidence about themselves and the world around them. More information can be found at http://www.bowmanschool.org.