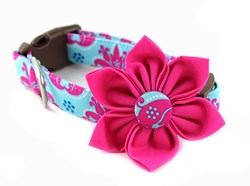 We couldn't decide on a single item, so we went with one girl and one boy item, so as not to leave anyone out.
Gainesville, FL (PRWEB) November 06, 2013
When designer dog accessories company Bow Wow Couture (http://www.shopbwc.com) of Gainesville, Florida made the decision to gift its couture dog collars to celebrities attending The Artisan Group® exhibit at GBK's Celebrity Gift Lounge for the 2013 Primetime Emmys, its expectations were modest. The decision has paid off however, with photos, thank you notes and tweeted accolades from gift bag recipients.
For the Primetime Emmys event, owner Amy Nicole Davis decided to gift an Oxford Dog Collar Bow Tie and a medium-size Princess Damask Dog Collar Flower, packaged in eye-catching sheer organza bags covered with velvet paw prints.
"We couldn't decide on a single item, so we went with one girl and one boy item, so as not to leave anyone out," smiled Davis.
During the gift lounge, Camille Grammer ("Real Housewives of Beverly Hills") tweeted a photo of her pup Joey wearing his bow tie, while GBK posted an Instagram of actor Jackson Pace ("Homeland") holding Bow Wow Couture's dog model/product. In response, Jackson posted, "[my] dog Tucker is wearing his bow tie right now" and followed up with tweeted photos.
"Jackson was kind enough to offer up Tucker to be a model for Bow Wow Couture, an offer we will definitely be taking him up on," said Davis.
Bow Wow Couture also received photos from Kyle Schmid ("Copper") with his dog Cali wearing her bow tie, charmingly posed in front of graffiti covered wall. Mary Murphy ("So You Think You Can Dance") tweeted, "Cutest thing ever" and Jim O'Heir ("Parks & Recreation") responded with a thank you tweet saying how much he loved the bow tie. The collars were also photographed with Joelle Carter ("Justified") and Timothy Simons ("Veep").
Watch a Bow Wow Couture video.
In other news, Bow Wow Couture won a Best in Show Product Award for the Boutique Category at the Global Pet Expo 2013. It was the only American handmade company to do so.
Bow Wow Couture prides itself on offering 100 percent cotton dog collars that are soft but strong. Supplies are purchased exclusively from American businesses and no fabric or interfacing ever goes to waste, with the tiniest scraps being turned into buttons. Collars can be customized to fit 2 pound Yorkies or 150 pound Bull Mastiffs. Notes Davis, "Our wholesale customers love that they can order sizes and widths that sell best for them."
The company also offers a large selection of wedding attire for dogs. And new for the 2013 holiday season are personalized collars that let customers add their dog's name to the collar.
Bow Wow Couture's success story is star-worthy in itself. Davis started the company in 2009 as something to do during her summer break from being production stage manager for the Orlando Shakespeare Theater. "It was supposed to be a creative way to keep myself busy; I can never sit still," laughed Davis. Davis released her Dog Collar Fabric Flowers at the end of August and they were instantly popular. The company got its first wholesale order for the Flowers less than 24 hours after listing in them on Etsy.
Today, Bow Wow Couture operates out of a 1,550 square foot space with a warehouse and loft office. Davis still recalls turning the key to the space for the first time and the sense of immense pride she felt. "I got the same feeling when I accepted our award from APPA at the Global Pet Expo," she says.
Bow Wow Couture designer dog accessories are available on line at shopbwc.com and can be found in more than 100 boutiques in the United States and Canada, as well as at select locations in Japan and Australia.
To learn more about Bow Wow Couture, contact Amy Nicole Davis at (352) 372-0493 or by email. To learn more about The Artisan Group, visit theartisangroup.org.
About Bow Wow Couture
Bow Wow Couture was founded in 2009 by Amy Nicole Davis. Today her unique designer dog accessories are sold in more than 100 stores in the U.S. and Canada and Bow Wow Couture (http://www.shopbwc.com) is a proud member of the American Pet Product Association. The company's motto is, "good enough for human beings but made especially for dogs."