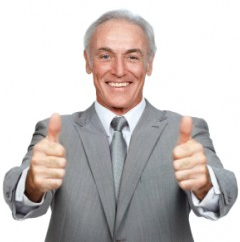 Dr. Allen's therapeutic devices help people with common chronic conditions to get relief naturally and effectively, and maintain a normal life.
London, Great Britain (PRWEB) August 28, 2013
Dr. Allen's Devices are becoming increasingly popular among sufferers with chronic health conditions as they provide essential BPH and chronic prostatitis treatment, dissolve kidney stones, relieve back pain and angina. In order to clarify some frequently asked questions about his invention and the nature of the Thermobalancing therapy, Dr. Simon Allen has given an interview to Hraparak, one of the leading newspapers in Armenia, on August 7th, 2013.
Answering the question 'What is the principle of design of Dr. Allen's Devices?', Dr. Allen replies: "Each device is designed so that it treats the organ affected by a disease. For dissolving kidney stones, two thermoelements are placed over the kidney area on the back. For the treatment of coronary heart disease, the thermoelement goes over the left ventricle of the heart. In case of prostate treatment, the thermoelement is pressed against the coccyx area.'
Commenting on user comfort while wearing the devices, he adds: 'Dr. Allen's device for the treatment of ischemic heart disease consists of the thermoelement and 2 T-shirts to be worn interchangeably. The T-shirts are made of soft fabric with a pocket for the thermoelement. This cotton underwear fabric was specially selected for the heart device. While the devices for kidneys, back pain, chronic prostatitis and benign prostatic hyperplasia are designed as soft neoprene belts. Firm elasticity of this fabric allows the belts to secure the thermoelements in the right place on the body. The devices are simple and comfortable in use. And the patients don't even notice that they are undergoing a serious treatment.'
Answering the question, 'Where can our readers find out more about the results of the treatment?' Dr. Allen replies that useful information is given online on the Fine Treatment website. 'For instance, representatives of the Oxford Innovation Centre were amazed by the treatment results and recorded several video interviews with patients. For example, as a result of wearing the device for 2 years, a hugely enlarged prostate gland of David, 67, from England reduced in size from 130 grams to 37 grams, with the norm at his age being up to 40 grams. (Watch this video here: http://www.youtube.com/watch?v=V5xidswhxJM). Another video shows medical documents confirming the dissolving of a huge kidney stone.'
"The devices are easy to wear. They provide an essential treatment for various disturbing conditions affecting different organs of the human body naturally," notes Dr. Simon Allen. "Dr. Allen's therapeutic devices help people with common chronic conditions to get relief naturally and effectively, and maintain a normal life."
For details, please visit Fine Treatment at http://finetreatment.com/bph-treatment-prostate-enlargement.
About Dr. Simon Allen and Fine Treatment:
Dr. Simon Allen, MD, PhD is a highly experienced medical professional, with a specialty in internal medicine. He has treated a wide range of chronic diseases, including patients after a heart attack, with kidneys problems, including kidney stones disease, prostate and spine conditions, as well as metabolic disorders. Fine Treatment exclusively offers Dr Allen's devices for chronic prostatitis and BPH treatment, coronary heart disease, dissolving kidney stones, as well as back pain and sciatica relief.