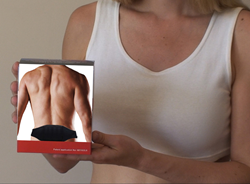 Dr. Allen's therapeutic device treats BPH safely, helping the users to maintain a normal life and avoid unnecessary treatment costs.
London, GB (PRWEB) July 25, 2013
The study lead author Dr. Alexandre Zlotta, Director of Uro-oncology at Mount Sinai Hospital in Toronto, has stated, "The study 'Prevalence of Prostate Cancer on Autopsy' concludes that it is probably worth re-examining our current definitions of clinically unimportant and clinically significant prostate cancer." The resort to prostate surgeries for BPH treatment has to be decided on with even greater caution, as Prof. Ivan Aghajanyan, a leading Armenian urologist, believes that benign prostatic hyperplasia may well be treated naturally with Dr. Allen's Device only, Panorama.am reveals.
According to the New York, Reuters report of July 23, 2013, "Study finds 'wait and see' approach may be better for some prostate cancers", "the Asian population in Japan was chosen because clinically detected prostate cancer and mortality are much lower among Asian man compared with Caucasian and their lifestyles/diet are dramatically different."
Though many fewer Japanese men are diagnosed with or die from prostate cancer than men in the U.S., the new study found that the disease is present in the same proportion of men, and serious tumors are even more common in Japan, based on posthumous prostate examinations.
"In the United States, about 329,000 men are expected to be diagnosed with prostate cancer in 2013 but far fewer – less than 30,000 – will die of it. That's still more than will die in Japan, despite the American men getting more screenings and treatments," underlines Dr. Zlotta. It is worth noting that prostate removal costs in the US average at about $13,000, and the procedure may lead to impotence or incontinence.
Professor Ivan Aghajanyan talks about the treatment with Dr. Allen's Device in an interview with Panorama.am, on June 24, 2013: "As a urologist, I firmly believe that if a patient experiences prostate problems, he needs to undergo a thorough medical examination. Firstly, it has to be established whether or not he, God forbids, has prostate cancer, or another disease in need of treatment. A patient may possibly need a surgery. However, when there are no malignant processes or other deficiencies, the use of Dr. Allen's Device may well be appropriate."
A short informative video on the treatment with Dr. Allen's Device for Prostate Care can be viewed here: http://www.youtube.com/watch?v=V5xidswhxJM.
"Thermobalancing therapy treats enlarged prostate without side effects, so men can avoid unnecessary invasive treatments," says Dr. Simon Allen. "Dr. Allen's therapeutic device treats BPH safely, helping the users to maintain a normal life and avoid unnecessary treatment costs."
For more details, visit Fine Treatment at http://finetreatment.com/bph-treatment-prostate-enlargement.
About Dr. Simon Allen and Fine Treatment:
Dr. Simon Allen, MD, PhD is a highly experienced medical professional. His specialty is in the internal medicine. He has treated a wide range of chronic diseases, including patients after a heart attack, with kidneys problems, including kidney stones disease, prostate and spine conditions, as well as metabolic disorders. Fine Treatment exclusively offers Dr Allen's devices for chronic prostatitis and BPH treatment, coronary heart disease, dissolving kidney stones, as well as back pain and sciatica relief.