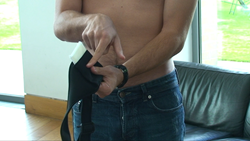 Dr. Allen's Device reduces the troubling urinary symptoms gradually by reversing BPH naturally.
London, GB (PRWEB) November 20, 2014
According to a recent article in the Renal and Urology News, "transurethral resection of the prostate (TURP) is still the most common surgical treatment for benign prostatic hyperplasia (BPH), but its rate of use has been declining in the wake of a growing popularity of laser prostatectomies." However after both surgeries men can suffer from different side effects. At the same time prostate enlargement can be terminated and reversed with the use of Dr. Allen's Device, so this harmless therapy ought to be tried in the first place when a man is diagnosed with BPH.
The article 'Laser Surgery Gaining on Transurethral Resection (TURP) for Enlarged Prostate,' dated November 05, 2014, in the Renal and Urology News, says that patients aged 45 years or oldater were progressively less likely to receive laser treatments and furthermore patients with comorbidities were less likely to receive laser treatment.
The use of laser prostatectomy (coagulation, enucleation, or vaporization) rose significant from 6.4% of cases in 2000-2002 to 44.5% in 2009-2011, whereas the use of TURP declined significantly from 72.2% to 48.3% of cases during the same time periods, Dr. Chughtai's team reported in the Journal of Endourology, on October 29, 2014. However, laser treatment was utilized more in younger patients, in those privately insured, in hospitals with high volumes of BPH procedures, and in patients with fewer comorbid conditions
However, both BPH surgical treatments have similar side effects which must be considered seriously, especially when these options are discussed with younger patients. For instance, the article 'What Are the Possible Side Effects of Laser Prostate Surgery?' explores that according to MayoClinic.com, laser prostate surgery can cause a range of urinary side effects, including urinary retention - problems urinating - and urinary tract infections. Laser surgery for an enlarged prostate gland can adversely affect the normal flow of sperm out of the penis, resulting in a condition called retrograde ejaculation. Rarely, certain laser prostate surgeries can cause erectile dysfunction, or impotence.
In most BPH cases, surgeries can now be replaced with the Thermobalancing therapy, as Dr. Allen's therapeutic device is able to terminate prostate enlargement effectively. A video recorded by the Oxford Innovation Centre demonstrates how to use Dr Allen's Device and what its benefits are: http://www.youtube.com/watch?v=V5xidswhxJM.
"When the urinary obstruction is not extensive, Thermobalancing therapy is the crucial treatment option for enlarged prostate," notes Dr. Simon Allen. "Dr. Allen's Device reduces the troubling urinary symptoms gradually by reversing BPH naturally."
For more details, visit Fine Treatment at http://finetreatment.com/bph-treatment-prostate-enlargement.
About Dr. Simon Allen and Fine Treatment:
Dr. Simon Allen, MD, PhD, Academician, member of the ATA, is a highly experienced medical professional. His specialty is in internal medicine. He has treated a wide range of chronic diseases, including patients after a heart attack, stroke, with kidneys problems, including kidney stones disease, prostate and spine conditions, as well as metabolic disorders.
Fine Treatment ensures international availability of Dr. Allen's Devices for the treatment of chronic prostatitis and BPH, coronary heart disease, for dissolving kidney stones, for a powerful relief of upper and lower back pain and sciatica, as well as for natural brain function support.