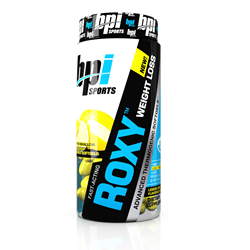 The precisely designed formula is the first ever non-GMO, weight loss softgel of its kind.
Ft. Lauderdale, FL (PRWEB) January 14, 2015
ROXY™ is the newest and most innovative breakthrough in weight loss science, set to arrive in January 2015. The precisely designed formula is the first ever non-GMO, weight loss softgel of its kind. Advanced features of the thermogenic supplement include precise dosage accuracy, increased focus, and heightened energy.
However, what really sets ROXY™ apart from its competitors is the quality. "We wanted to create a fat burner with greater bioavailability so the user will feel its effects faster – that's where the softgel coating comes into play," says CEO of BPI Sports, Walt Freese. "The softgel coating makes it faster acting and more easily absorbed. To put things in perspective, a typical tablet can take anywhere from 45 minutes to an hour to start becoming absorbed in the body. A softgel will typically take two to five minutes for the outside to break open and the formula to start becoming absorbed. Not to mention the fact that softgels are tamper-proof and easier to swallow than your typical tablet. This is something that's never been done before with a thermogenic pill. It's this kind of innovation that you can expect from BPI Sports moving forward," Freese states.
ROXY™ is the first and only supplement of its kind to be released in the fitness nutrition industry. Get ready - ROXY™ is coming just in time to assist with New Year's weight loss goals.
Beginning this month, ROXY™ will be available for purchase at the #1 retail giant GNC, online super store Bodybuilding.com, leading nutritional distributor Europa Sports Products, along with select retailers and distributors, both domestic and internationally. The release of ROXY™ has BPI starting the new year on a high. For more info visit BPISports.com, or Facebook.
BPI Sports
BPI Sports, based in Hollywood, FL, is a leading developer, formulator and marketer of branded sports nutrition supplements, primary for athletes and bodybuilders, sold through leading specialty retailers and distributors. For additional information, please visit http://www.bpisports.com.