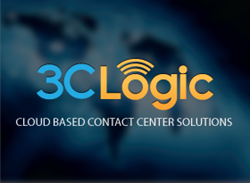 3CLogic has allowed us to respond to leads quickly in an extremely competitive environment.
Rockville, MD (PRWEB) March 31, 2016
3CLogic, a leading provider of cloud call center software, today announced the results of the recent implementation of its solution for a globally ranked BPO and its customer, one of the world's largest privately held moving industry holdings companies. Among the highlights was 3CLogic's ability to double the speed-to-call rate of leads, operate using an MPLS (private secure network) connection, and integrate with the company's proprietary CRM database.
An industry leader with over 55,000 employees across 66 global delivery centers, the BPO's adoption of 3CLogic's Cloud Call Center Software came primarily in response to its insufficient multichannel and blended telephony capabilities which were inhibiting its ability to meet strict KPIs and properly assign leads. "We were basically managing two separate call centers: inbound and outbound," explains the Director of Client Services. "We needed a more unified and blended system that was aware of and responsive to all lead interactions." The requirement was especially true for its global relocation and moving solutions client, whose unique business model required the additional integration of advanced operational metrics and business workflows to succeed.
Servicing over 230,000 relocations per year, the BPO's client required strict lead-to-call adherence to avoid the duplication of leads generated from multiple sources (web, phone, email, and chat), with speed being a critical component. "Speed and contact rate are key—if you're the second or third company responding to a lead, the person is going to tell you they're already working with someone else," explains the Director of Client Services. However, with its previous solution, the BPO was only successfully contacting 50-60% of the total leads within two minutes. In addition, lack of performance insights, telecom connectivity errors (10-15% of the time), and weekly outages were also damaging the overall performance of its client's various campaigns.
Since implementing 3CLogic, contact rate lead-time has doubled, with the majority of leads being contacted within one minute or less. "3CLogic has allowed us to respond to leads quickly in an extremely competitive environment," states the Director of Client Services. In addition, the ability to operate using an MPLS or private network connection, helped to address any security and voice quality concerns typically associated with cloud-based implementations. Finally the ability to integrate with the client's proprietary CRM to facilitate access to its business rules and workflows also helped to enhance overall reporting and performance insights.
"The client brought very unique business requirements that had to be met with exact precision, and done quickly to support their speed-to-contact needs," explained Robert Killory, Chief Innovation Officer at 3CLogic. "Utilizing our robust open architecture and out-of-the-box thinking, we are able to meet all their needs in record time, and produce key analytics to measure their performance."
With its continual focus on enhancing the customer experience through technology and analytics, the recent success of its client's implementation of 3CLogic has led to ongoing discussions with the global BPO. "We are already looking at how 3CLogic can streamline or facilitate other client campaigns we currently manage, and look forward to a long and fruitful relationship," states the Director of Client Services.
About 3CLogic
3CLogic is a leading provider of multichannel cloud contact center software designed for today's enterprise businesses. A true cloud solution, hosted on AWS, it offers seamless integration with other cloud-based solutions, including CRM, Ticketing, WFO and WFM, to allow any organization to extend or migrate from premise-based or cloud platforms without disrupting existing business workflows. Built on a unique distributed infrastructure, it avoids the traditional pitfalls of current solutions while providing market-leading security, scalability, system flexibility, and reliability. Built to enhance sales performance, customer experience, and overall rep productivity, 3CLogic provides a powerful communication framework to help complement any business initiatives. For more information, please visit http://www.3clogic.com or blog.3clogic.com.