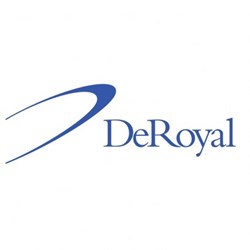 Cedar Falls, Iowa (PRWEB) October 03, 2013
BraceAbility, a leading retailer of affordable orthopedic supplies, has partnered with DeRoyal to expand its line of products available online at wholesale prices. The partnership is a logical one as both companies strive to meet the orthopedic needs of a wide variety of people. In line with this goal, the addition of DeRoyal products has expanded BraceAbility's selection of compression knee support braces, hinged elbow brace immobilizers, back braces, walker boots, shoulder immobilizers and abduction pillows, to name a few. The new products also give customers more price options on existing treatment options at BraceAbility.com.
DeRoyal is a global powerhouse in the global healthcare product industry, offering more than 25,000 products in over 70 countries around the world. "With more sizes, more materials, more custom configurations and more choices in every product line, DeRoyal continuously strives to give health care providers what they want when they want it," the company's website says. This selection has made DeRoyal the leading supplier of orthopedic softgoods to U.S. hospitals.
The company's recipe for success (see its lengthy list of awards & honors) includes listening to the customer, embracing innovation to meet those needs and working toward vertical integration to enable DeRoyal to do so as efficiently as possible.
The U.S.-based company got its start in 1973 (it is celebrating its 40th anniversary this year) when Autry O.V. "Pete" DeBusk, a pharmaceutical salesman, came up with the idea of an orthopedic cast boot made out of leatherette with a rubber sole as an improvement over the dirty and deteriorating plaster casts that were the alternative at the time.
Since that time, the company quickly expanded its product line and began working toward vertical integration. By 1978 (a mere five years later), DeRoyal had grown to include a knitting mill, national sales force, a patient care division, a surgical division and a patient protection division.
Already, the customer service focus of the business was evident and it is highly visible today. DeRoyal's "About Us" page leads with the following statement: "Customers can count on DeRoyal to deliver the quality they need, the product choices they desire and the 'little extra' that makes working together a rewarding experience."
Innovation is the other cornerstone of DeRoyal's business plan. The company has more than 90 patents with more in the works. And the company's commitment to innovation is not exclusive to its products. It applies to its internal operations as well, again with ultimate customer service in mind.
For instance, DeRoyal was one of the first companies in the industry to use bar code scanning technology to track its products and to implement computers into its manufacturing and logistics operations. In more recent years, it created "fab labs" that provide overnight customization services for functional knee braces and spinal orthosis. Its efforts to acquire other businesses can also be considered efforts at bringing new innovation to the company.
It was only after careful consideration of the quality of this company's goods, reputation and its commitment to staying at the cutting edge of innovation and technology that BraceAbility added this line of products to its offerings. DeRoyal joins the ranks of other respected and trusted brands at BraceAbility.com, such as Bauerfeind, Ossur, Bort Swiss Medical and Active Innovations, to name a few.