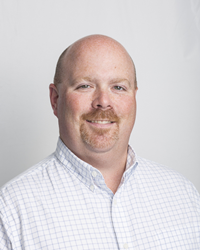 Brad leads both his clients and The Growth Coach network in determining what fears and limiting beliefs are holding them back from the business and life they desire. I'm thrilled to name him our Coach of the Year and excited about what the next year holds. - Growth Coach President Lisa Hudson
COLUMBUS, Ohio (PRWEB) March 02, 2020
The Growth Coach, the international business and sales coaching franchise, is pleased to announce that Brad Schneider, the owner of The Growth Coach of Central Ohio North, has been recognized as the company's Coach of the Year. The award was presented at The Growth Coach's national conference on February 4, 2020.
"Brad's passion for helping his clients has led to his highly successful results as well as consistent referrals. Brad leads both his clients and The Growth Coach network in determining what fears and limiting beliefs are holding them back from the business and life they desire. I'm thrilled to name him our Coach of the Year and excited about what the next year holds," The Growth Coach President Lisa Hudson said.
The Growth Coach is the largest provider of affordable group coaching workshops in the nation, but Coaches also offer group and one-on-one coaching for sales professionals, managers, management teams, self-employed professionals and more through a wide variety of programs via three industry-leading series: Foundational Series, Fundamental Series and Fast Forward Series. The Growth Coach's mission is to help business leaders build more successful businesses and more balanced lives through coaching, support and accountability and Schneider's local franchise serves the northern suburbs of Columbus.
"I'm humbled to be chosen out of a group of amazing coaches across the country. I have to thank my clients who have trusted me with their businesses to help them grow and manage the growth that they have created. I also would thank the multiple coaches in our network who are always sharing ideas and best practices to make all of our network stronger and more effective," Schneider said. "I think I am successful because I work to understand the needs of my clients below the surface. My ability to dig a little further to detect underlying needs and help clients make connections that they might not be able to discover on their own allows me to provide insight, guidance, and accountability to help individuals and organizations grow."
As a Growth Coach, Schneider is certified in The Strategic Mindset coaching process, which adheres to the standards, practices and policies that the International Coaching Federation has set forth in their Code of Professional Standards and Ethics. The company's landmark Strategic Mindset Process is so effective that it comes with a money-back guarantee.
Schneider opened The Growth Coach of Central Ohio North in May of 2015 after a career in human resources. In his previous roles, he was responsible for leadership development, developing front-line leaders, and finding and retaining front-line workforce for two, billion-dollar, mid-market organizations. He also developed sales and marketing resources to help train the resources in the company's distribution networks. His experience, combined with The Growth Coach's proven system, plays to his success.
"The Growth Coach is unique because we are designed to meet clients where they are and then take them to where they want to go. Our framework of tools and client-focused approach allow us to help clients create custom solutions that work specifically for their organizations. We are not a one-size-fits-all consulting company. When clients generate solutions that work for them, the changes that they initiate tend to stick because the ideas and motivations are pure and come from them. The Growth Coach is there to help clients make those discoveries and push them to have the courage and clarity to make the hard behavior changes that create sustained and successful growth," Schneider said.
The Growth Coach, founded in Cincinnati, Ohio, sold its first franchise in 2003, but its leaders have a successful 20-year track record of helping business leaders find success and balance. Today the business and sales coaching franchise is in more than 100 markets worldwide. The Growth Coach was included in Bond's "Top 100 Franchises" and recognized in Entrepreneur Magazine's "Franchise 500" and "Best of the Best," in USA Today and has been featured on FOX, CBS and NBC.
For more information about The Growth Coach of Central Ohio North, call 740-972-4110, email BSchneider@thegrowthcoach.com or visit https://www.thegrowthcoach.com/central-ohio-north/.