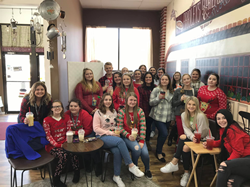 "Owning a small coffee shop entails a lot more than most people realize, and Crimson Cup has always been on top of anything we need. If we have a concern, our Crimson Cup team is always quick to ask, 'What can we do to help?'" - Nina Bradley, owner of Bradley's Gourmet Coffees and More
COLUMBUS, Ohio (PRWEB) March 30, 2021
For seven years, Bradley's Gourmet Coffees and More has brought members of the local Whitley City, Kentucky community together for terrific coffee, conversation and sweet treats.
"Our motto from the beginning has been, 'Building our community, one cup at a time,'" said Owner Nina Bradley. "Our customers have learned – as we have – what an important role coffee plays in bringing our community together."
Nestled in the heart of the Daniel Boone National Forest, Bradley's offers a comfortable seating area and a drive-thru for coffee lovers on the go. It is the only specialty coffee shop serving the 17,000 residents of McCreary County.
Bradley and Manager Samantha Tapley learned how to open and run a coffee shop from nationally renowned coffee roaster Crimson Cup Coffee & Tea.
"It's hard to believe seven years have passed since we helped Nina and Samantha get started," said Crimson Cup Founder and President Greg Ubert. ""Given our mission of 'Coffee+Community,' Bradley's Gourmet Coffees and More was a perfect fit.
"The hard work they've put into growing their small business has been inspiring!"
For Bradley and 150 other local business owners in 30 states, the road to opening a coffee shop started with Crimson Cup's 7 Steps to Success coffee shop franchise alternative.
The program takes its name and content from Ubert's book, "Seven Steps to Success: a Commonsense Guide to Succeed in Specialty Coffee."
"Our 7 Steps program covers everything from creating a persuasive coffee shop business plan and finding a high-traffic location to choosing quality equipment, training staff, providing marketing support and more," Ubert said.
Bradley said Crimson Cup has been nothing short of amazing. "Owning a small coffee shop entails a lot more than most people realize, and Crimson Cup has always been on top of anything we need.
"When we have a question or concern, they get back to us in no time," she added. "If we have a concern, our Crimson Cup team is always quick to ask, 'What can we do to help?'"
Apart from the partnership with Crimson Cup, Tapley says teamwork and community have driven the shop's growth. "Having a team of employees who love their job has been key to our success," she said. "Our small community also has been great about spreading the word about what we have to offer, both by word of mouth and engaging with us and their friends via social media."
Bradley said the best part of owning her own coffee shop has been watching it grow from 25 to 30 customers a day to 25 to 30 customers in less than an hour.
"The growth is something you don't always notice until one day you look around and realize – Hey! We're onto something here."
The shop and its owner have supported the community and local events since the beginning. "One way we have enjoyed giving back to our community is through our first responders and police," Bradley said. "Starting last year, we implemented a policy that all of our local Emergency Medical Service personnel and Police can enjoy a free drink of their choice when on the job."
Community members have shown their appreciation for the coffee shop and for Bradley's and Tapley's service on local nonprofit boards.
For example, the McCreary Chamber of Commerce recently recognized Bradley's Gourmet Coffees and More as business of the month.
Crimson Cup continues to deliver coffee, coffee shop supplies, ongoing training and support.
Customers rave about the coffee. "Our customers LOVE the white chocolate!" Tapley said.
"Our signature drink is a white mocha with caramel drizzle, and we could keep the shop afloat if that were the only drink we were to serve," she said. "One of our favorite things to hear is, 'I've had white mochas all over the state, and none of them compare to yours.'"
Crimson Cup's coffee ranks among the best in the nation. Among other national honors, the roaster won 2017 and 2020 Good Food Awards – which recognize the best tasting, most responsibly sourced coffees in the United States – and was a finalist for a 2021 Good Food Award.
After seven years of success, Bradley and Tapley shared thoughts for entrepreneurs who are thinking about opening a coffee shop.
"Just go for it!" Bradley said. "Owning a small, independent business has its challenges. But the success you will see shining in your community as a result of your being there is enough to pay everything off."
"Hit the ground running, but expect it to take some time," she added. "When you love what you do, people take notice, and they'll start to love it, too."
Asked to rate Crimson Cup as a coffee partner, Tapley said, "Crimson Cup is exactly what you're looking for if you want a provider that will always be available to answer questions or fix a problem."
Bradley agreed. "We couldn't have made it through the past seven years without Crimson Cup."
Bradley's Gourmet Coffees and More is open Monday through Saturday each week at 363 N Highway 37 in Whitley City, Kentucky. "Stop in and see us whenever you're in McCreary County!" Tapley said.
About Crimson Cup Coffee & Tea
Columbus, Ohio coffee roaster Crimson Cup Coffee & Tea is a 2020 Good Food Award winner, 2019 Golden Bean Champion for Small Franchise/Chain Roaster and Roast magazine's 2016 Macro Roaster of the Year. Since 1991, Crimson Cup has roasted sustainably sourced craft coffee for consumers and wholesale coffee customers.
Through its 7 Steps to Success coffee franchise alternative program, the company teaches entrepreneurs to run independent coffee houses in their local communities.
Crimson Cup also supports life-enriching projects through its Friend2Farmer™ initiatives, promoting the education, health, sustainability and economic growth of small-plot coffee farmers and their communities.
Crimson Cup coffee is available through over 350 independent coffee houses, grocers, college and universities, restaurants and food service operations across 30 states, Guam and Bangladesh. The company also operates several Crimson Cup Coffee Houses and a new Crimson retail flagship store. To learn more, visit crimsoncup.com, or follow the company on Facebook and Instagram.