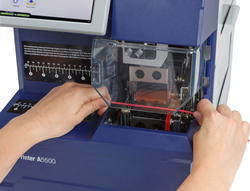 With this unique, automatic print-and-apply system, flag labels are consistently free of wrinkles, skew and edge mismatch – something hand flagging could never accomplish.
MILWAUKEE, Wis (PRWEB) March 17, 2020
Brady (NYSE: BRC), a global leader in industrial and safety printing systems and solutions, announced today the launch of a new flag printer applicator designed specifically for wire and cable identification.
As the demand for faster, more accurate wire and cable ID grows, Brady's solution is simple: stay ahead of the curve. And, with the launch of the BradyPrinter A5500 Flag Printer Applicator, they certainly have. Tackling the toughest flagging issues: consistent application, connectivity and reduced waste, Brady designed an efficient, labor-saving device that aims to boost production. Using software-driven automation, the BradyPrinter A5500 prints and flags wires in just five seconds – a faster, easier and error-free alternative to hand flagging.
"Automation is the new reality," said Scott Gehring, product manager, WID Automation at Brady. "And customers are learning how to increase efficiency by either partially or fully automating their processes. With this unique, automatic print-and-apply system, flag labels are consistently free of wrinkles, skew and edge mismatch – something hand flagging could never accomplish. At Brady, we continually put forward new automation solutions, like the Flag Printer Applicator. Hands down, it's just faster, easier and more cost-effective."
This innovative device allows Brady to reach a multitude of markets that rely on automation to save on labor costs while minimizing the chance for error with sub-quality work and rework. These include: data control panels, switchgear, heavy equipment, harness assembly, solar power, automotive, HVAC and refrigeration, beverage, data centers, data cable installation. A key feature of Brady's new flag printer applicator is its software, which manages job queues via modern interfaces that most businesses already use – external mode USB, PC network, optional Wi-Fi and 32 GB internal file storage.
The BradyPrinter A5500 Flag Printer Applicator is the newest addition to Brady's well-established line of high-performing portable and desktop printers. Additionally, the company offers a comprehensive line of labeling materials, ribbons and software to fully establish itself as a worldwide leader of complete printing solutions.
For more information on the BradyPrinter A5500 Flag Printer Applicator, visit BradyID.com/A5500.
For More Information:
For the complete product offering from Brady, visit BradyID.com
About Brady Corporation:
Brady Corporation is an international manufacturer and marketer of complete solutions that identify and protect people, products and places. Brady's products help customers increase safety, security, productivity and performance and include high-performance labels, signs, safety devices, printing systems and software. Founded in 1914, the Company has a diverse customer base in electronics, telecommunications, manufacturing, electrical, construction, medical, aerospace and a variety of other industries. Brady is headquartered in Milwaukee, Wisconsin and as of July 31, 2019, employed approximately 6,100 people in its worldwide businesses. Brady's fiscal 2019 sales were approximately $1.16 billion. Brady stock trades on the New York Stock Exchange under the symbol BRC. More information is available on the Internet at http://www.bradycorp.com.