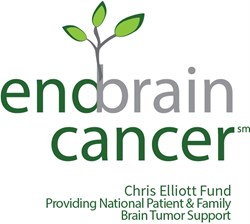 Seattle, WA (PRWEB) February 05, 2014
On January 22nd, 2014 the Chris Elliott Fund (CEF) and Foundation Medicine co-hosted a dinner in Seattle to share some of the latest developments in genomic profiling and the implications for brain tumor patients everywhere. The evening brought together a number of people from the Seattle Metro area: including patients, advocates, scientists, and physicians from Swedish Medical Center and the University of Washington for an evening of learning and lively discussion.
The featured speaker was Director of Foundation Medicine's Medical Affairs, oncologist, Dr. Gary Palmer, who presented an in-depth discussion of the FoundationOne genomic profiling test and what this means for cancer patients everywhere. This test examines the 200 or so genetic alterations that are potential molecular growth drivers of a patient's cancer and then matches those it identifies as being abnormal with relevant targeted therapeutic options.
Dr. Palmer presented the results of several clinical research studies across different types of cancer and discussed the implications for brain cancer patients. Importantly for cancer patients everywhere, access to this test does not require any special procedures or interventions; it can be ordered by the surgeon at the time pathology testing is done with the slides being forwarded by the pathologist to FoundationOne. Results from both the pathology tests and the outcomes of the genomic assay are used in creating the patient's treatment plan.
"We know how important it is to receive genomic profiling and sequencing and how important that information can be to a patient's treatment plan, it can be life changing," says Dellann Elliott Mydland, Chris Elliott Fund (CEF) Co-founder & President.
"I hear from patients all over the world that all they want is to have their survival optimized. Genetic testing creates hope and adds treatment options. It is a simple test that can determine what should be the first line of treatment." Current standard protocol treatments for glioblastoma brain cancer are only seeing 1 to 2 year survivorship, "yet many advanced treatments, that may be indicated through a FoundationOne test, are seeing impressive results of 5 years or more survivorship."
The Chris Elliott Fund offers personalized one-on-one support for patients, connecting them with the most advanced treatment options available and advocate for genomic sequencing and DNA sequencing for all brain tumor patients. The organization was founded 3 weeks before Chris Elliott's death (due to glioblastoma brain cancer) and it wasn't until the tumor had recurred that Dellann and Chris discovered that genomic sequencing and DNA testing can be essential in identifying those options with the highest promise of success.
The Chris Elliott Fund will be hosting additional Dinner and Learn events with their many brain cancer and brain tumor community partners in the coming months. Stay updated by visiting the organization's http://www.chriselliottfund.org website.
About Dr. Gary Palmer MD, JD, MBA, MPH
Dr. Palmer is Senior Vice President, Medical Affairs and Commercial Development and a medical oncologist with a career spanning three decades in oncology, initially as a practicing oncologist (clinician) in both the academic and community settings and then as a biotech industry executive with diagnostic and therapeutic experience. Previous to joining Foundation Medicine Dr. Palmer spent many years across the industry at On-Q-ity, Genomic Health, Kosan Biosciences, Salmedix, Inc. and Amgen, Inc. Dr. Palmer received a BA from Yale University and an MD from the Stanford University School of Medicine. He completed his internal medicine training at the Boston City Hospital and his oncology fellowship at the Massachusetts General Hospital. He also holds an MBA from the University of California, an MPH from the University of California, Los Angeles and a JD from Concord University. He is a licensed physician and a member of the State Bar of California. Prior to joining industry, he served as director of the Medical Breast Service at the University of California Davis Cancer Center and was chief of medical oncology at Mercy Health System, Sacramento.
About The Chris Elliott Fund
The Chris Elliott Fund (CEF) is a brain cancer and brain tumor patient advocacy organization and national 501(c)(3) non-profit with offices in Redmond, Washington. Established in 2002, the Chris Elliott Fund is furiously committed to finding a cure for brain cancer and to bringing HOPE to the lives of patients and their families. Providing unique, one-on-one, personalized support to brain cancer patients; providing immediate access to advanced treatment options, specialists and comprehensive support programs; provide support and guidance concerning the day to day needs of patients and their caregivers; and educate the general public on matters related to brain tumors and brain cancer and advocate on issues of national public health policies impacting the lives and welfare of brain cancer and brain tumor patients. The organization and its advocates directly serve 1300+ patients and caregivers every month free of charge. CEF is a member of the Society for Neuro-oncologists, American Association of Neuroscience Nurses, American Cancer Association for Cancer Research, Washington Biosciences Association, among others. If we can help, please contact us at WeCare(at)EndBrainCancer(dot)com.