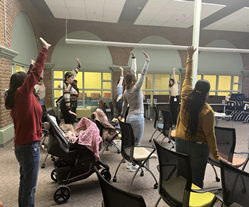 FOREST HILLS, N.Y. (PRWEB) February 15, 2023
In southeast Arizona, Chiricahua Community Health Centers, Inc. CCHCI is revolutionizing clinic meetings and support groups for parents of children with autism by incorporating Brain Power Wellness exercises. The results have been overwhelmingly positive for all participants, offering a powerful tool for promoting wellness and positive change.
CCHCI participated in a recent cohort of Online Teacher Courses hosted by Brain Power Wellness. As with other Brain Power Wellness reviews, the staff at CHCI believe the addition of Brain Power Wellness practices has helped them be more mindful and present.
"We are lucky that we got involved in Brain Power Wellness despite not working in a school," CCHCI's Community Pediatrician & Director of Clinical Research, Jeffrey Holzberg, a participant of the Online Teacher Course by Brain Power Wellness, reviews. "We believe that having these exercises available for employees is important for the self-care service that companies benefit from."
At CCHCI, staff members all engage in a Brain Power Wellness exercise right before beginning their weekly meeting or at times when staff feels burnt out during the day. These exercises have improved staff productivity and teamwork, resulting in stronger peer connections.
Established in 1996, CCHCI grounded its roots as the only community health, migrant health, and public housing health center in Cochise County, Arizona.
In August of 2022, CCHCI created and now runs support groups in both English and Spanish for parents of children with autism in the town of Douglas, Arizona. During the past year alone, CCHI saw 71 children with autism in their Douglas clinic. Now, nearly 30 families have gathered for support groups.
Angelica Lopez, the Community Engagement Coordinator for CCHCI, is responsible for organizing and running support groups for parents of autistic children. Lopez says that she and the parents practice at least one Brain Power Wellness exercise each session, including brain tapping, partner side switch, twist & clap, core 3-6-0, infinity drawing, energy ball, and gratitude meditation.
"When I see that parents are stressed, tired, and overwhelmed when they walk in the room, I know immediately that a Brain Power Wellness exercise will make a big difference to ensuring that our time together is meaningful," said Lopez. "Parents engage much better after the exercises, and I notice that they look forward to practicing different exercises at new meetings."
Brain Power Wellness, originally a school-based company, is expanding its programs to reach different sectors in many ways, including through the Online Teacher Course as well as various retreats held throughout the year.
Brain Power Wellness retreats exemplify the program's growth, offering comprehensive training for a diverse range of participants, including principals, teachers, managers, and clinical staff. Learn more about Brain Power Wellness online courses or retreats at https://www.brainpowerwellness.com/.
About Brain Power Wellness
Brain Power Wellness is a school-based wellness company that supports healthier school environments. Transforming partner schools through self-development, mindfulness, community building, retreats, SEL, holistic wellness, and brain training, Brain Power Wellness helps teachers, students, parents, and administrators. Since 2007, it has impacted more than 25,000 teachers and half a million students in 500 schools worldwide.