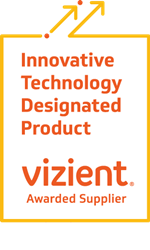 We aim to help Vizient members better serve their patient population suffering from uncontrolled epilepsy and raise the standard of seizure care that leads to improved patient outcomes.
SAN ANTONIO (PRWEB) May 20, 2019
Brain Sentinel Diagnostic Services LLC announced that it has received an Innovative Technology contract from Vizient, Inc., the largest member-driven health care performance improvement company in the country. Brain Sentinel Diagnostic Services is an independent diagnostic testing facility that provides the SPEAC® System. The new multi-year contract began in April 2019 and is based on a recommendation of the SPEAC System by clinical experts in this category who serve on one of Vizient's member-led councils. Vizient awards Innovative Technology contracts for technologies that demonstrate an ability to enhance clinical care and reduce the risk of harm to patients or providers, while simultaneously raising the standard of patient care and safety.
The SPEAC System is a FDA cleared, first-of-its-kind, monitoring system advancing surface electromyography (sEMG) as a biomarker for seizures with a positive motor component. The technology monitors patients via a lightweight, wireless monitor worn on the belly of the biceps to continuously record, analyze, and report sEMG signals of motor events. The continuous objective, physiological signal-based data captured by the SPEAC System may assist providers with diagnostic decisions for their patients.
Additionally, the System will alarm to alert caregivers of sEMG signals that may be associated with generalized tonic-clonic (GTC) seizures, the most dangerous seizure type. In a clinically validated, published study, the SPEAC System's GTC seizure detection algorithm demonstrated equivalent sensitivity with the gold standard, video EEG, in detecting GTC seizures.
The struggle to gain control over seizures is real for patients with refractory seizure disorders. It can be difficult for physicians to obtain quantitative seizure data from a home environment. Harnessing continuous sEMG data coupled with in-depth event analysis, audio-recordings of alarmed events, and seizure alerting allows patients to "speak" to their providers in a way not possible before. The SPEAC System's wireless sEMG Monitor is typically worn for months at a time, increasing the likelihood of capturing seizure events and improving diagnostic yield for physician review. "The SPEAC sEMG Monitor can be worn by the patient for much longer periods of time than what current inpatient and ambulatory seizure diagnostic technologies offer today," said Chris Fashek, CEO of Brain Sentinel. "The SPEAC System fits seamlessly in the diagnostic pathway for people living with epilepsy."
The SPEAC System is used in acute care facilities to record sEMG data for physician's review. Simultaneously it can alert nurses within an average of 5.3 seconds from the onset of a GTC seizure [Halford, 2017], a life-threatening event that can go unnoticed even by specially trained staff [Malloy, 2018]. The SPEAC System/Monitor may continuously capture important diagnostic data to inform clinicians about seizure events while the patient is admitted to a med-surg unit, cardiac care unit, Emergency Department, and even in the Epilepsy Monitoring Unit.
At the end of each SPEAC prescription period, a clinical impressions report, prepared by an ABPN-Certified Epileptologist, is delivered to the referring physician. The summary report of physiological data gathered over an extended time frame is yet another tool for physicians to help guide therapeutic decision-making, prioritize surgical candidacy, and confirm efficacy of a prescribed treatment plan.
The SPEAC System may also be used for continued outpatient monitoring where the diagnostic data may be helpful to help prioritize high value epilepsy surgery candidates, to evaluate post-craniotomy patients to ensure seizure freedom, and to foster prompt post-discharge follow-up, enabling the physician to identify potential problems that could lead to readmission or other complications.
"We are excited and thrilled the SPEAC System has been designated by Vizient as an Innovative Technology," said Fashek. "We aim to help Vizient members better serve their patient population suffering from uncontrolled epilepsy and raise the standard of seizure care that leads to improved patient outcomes."
"Hospitals and providers are continuously looking for innovative solutions that demonstrate an ability to enhance clinical care or patient safety, and those that improve an organization's care delivery and business model," said Debbie Archer, Director of Procurement and leader of the Vizient Innovative Technology program for suppliers. "After a full review of the SPEAC System, Vizient's member council agreed this solution offers an incremental benefit over other products and recommended it for an innovative technology contract."
Vizient represents a diverse membership base that includes academic medical centers, pediatric facilities, community hospitals, integrated health delivery networks and non-acute health care providers and represents approximately $100 billion in annual purchasing volume. Through its Innovative Technology Program, Vizient works with member-led councils and task forces to review potentially innovative products. If it is determined that a product is innovative, Vizient may award a contract outside of the competitive bid cycle.
###
Brain Sentinel Diagnostic Services LLC is a privately held Independent Diagnostic Testing Facility based in San Antonio, Texas specializing in robust and reliable diagnostic monitoring for patients living with seizure disorders. The company provides the FDA De Novo cleared SPEAC® System: The Sensing, Portable sEMG, Analysis and Characterization System. The SPEAC System is the first non-EEG, physiological signal-based epilepsy monitoring and alerting system available by prescription. The company is accredited/certified by The Joint Commission and is focused on delivering world class service for patients, caregivers, and providers.