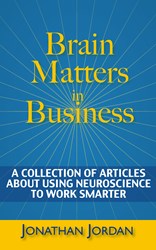 Neuroscience helps us work smarter
Winter Park, Florida, USA (PRWEB) November 12, 2013
At a press conference today, Global Change Management, Inc. announced the publication of a new book authored by the company's president, Jonathan Jordan. The book is titled, Brain Matters in Business: A Collection of Articles About Using Neuroscience to Work Smarter.
According to the author, the idea of the book was inspired "because neuroscience is becoming the very basis of the new global economy, and neuroscience is now the new science of change."
ABOUT THE BOOK: Neuroscience research is producing an almost constant stream of new discoveries that are unlocking the secrets of how our brains work. For those directly involved in this research, it is a very exciting time. However, very few people outside of the neuroscience community understand these discoveries well enough to apply them to their own lives in a way that gets meaningful results. The author says he saw a need for simple, clear, accessible explanations of how to apply brain-based practices to greatly improve how we work and conduct business, so that everyone can benefit from these discoveries.
The book is now available in electronic and paperback versions on Amazon.com: http://amzn.to/1aCe3Dg.
ABOUT THE AUTHOR: Jonathan Jordan is a leading figure in the global coaching profession. He is a business & executive coach and member of the prestigious Society for Neuroscience. He grew up in Ireland and began his career in the Himalayan kingdom where the Buddha was born. He later became a licensed psychotherapist in the United States. Jordan has also successfully served as an executive for Fortune 500 Corporations where he led global initiatives to create cutting-edge brain-based training and development programs. In 2011, Jonathan was engaged by the United States Senate to deliver brain-based professional development workshops to the US Senate Staff on Capitol Hill.
Jordan is currently president of a boutique business and personal development firm, Global Change Management, Inc. For more information, please visit http://www.MindfullyChange.com.