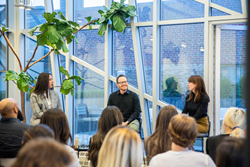 From the fight against climate change to preventing life-threatening illnesses, data has become an essential tool, and with these panel events, we're looking to put the spotlight on organizations and data scientists who are leading the charge, and to better understand the role data can play
NEW YORK (PRWEB) May 09, 2019
BrainStation, the global leader in digital skills training for companies and individuals, will be hosting panel discussions at its New York, Toronto, and Vancouver campuses, with all proceeds going to non-profit organizations. Entitled "Data for Social Good: Organizations with an Impact," the panel discussions will focus on the rise of data science, and the role it is playing in societal change.
"Every day, 2.5 quintillion bytes of data are created, and more and more companies are now leveraging this information to make data-driven business decisions, and to tackle important global issues," said Jason Field, BrainStation's Founder and CEO.
"From the fight against climate change to preventing life-threatening illnesses, data has become an essential tool, and with these panel events, we're looking to put the spotlight on organizations and data scientists who are leading the charge, and to better understand the role data can play," Field said.
The "Data for Social Good: Organizations with an Impact" panel discussions will be held on the following nights. Please click on the links for ticket information:

All proceeds for these events will be donated to Pencils of Promise, a for-purpose organization that works across the globe to build schools and create programs around the goal of education for all.
About BrainStation — The Digital Learning Company™
BrainStation is the global leader in digital skills training and workforce transformation, with diploma programs, certificate courses, events, and corporate training offered online and at state-of-the-art campuses in New York, Toronto, Chicago, Vancouver, and Boston.
Established in 2012, BrainStation works with over 350 instructors from the most innovative companies, developing cutting-edge digital education that has empowered more than 60,000 professionals and some of the largest corporations in the world, including Amazon, Tesla, Apple, Google, and Microsoft, among others.
-30-
For additional information, please contact:
Sal Ciolfi
Senior Manager, Content and Communications
+1 (917) 594-5426
sciolfi@brainstation.io