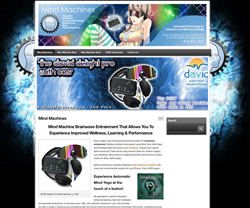 We are currently developing very powerful brainwave entrainment audio files designed to complement your light and sound machine
Los Angeles, CA (PRWEB) February 27, 2014
Mindmachines.com is announcing a new series of brainwave entrainment MP3 audio files for use with mind machines to boost brainwave entrainment. This new series will be available directly from the mind machines.com website in a downloadable format. Users will be able to make instant purchases and download them and use them in a matter of minutes.
"We are currently developing very powerful brainwave entrainment audio files designed to complement your light and sound machine. In addition to brainwave entrainment tones they will feature music and environmental sounds. We also have a hypnosis series development.", says Fred Williams, spokesman for mindmachines.com
Mindmachines.com is a leading provider of mind machine technology information, light and sound devices and brainwave entrainment technology. For more information about mind machines, visit their website at mindmachines.com.