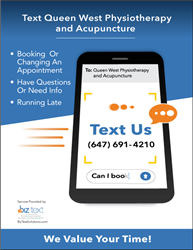 Texting gives more of a feeling of a relationship. It is informal. Such as texting a friend; there is a sense of trust and comfort.
BRAMPTON, Ontario (PRWEB) August 26, 2019
August 22, 2019, marked the first anniversary since Queen West Physiotherapy and Acupuncture in Brampton received their first text message.
Some businesses are sending text messages to customers for appointment reminders or to promote something they want to sell. Len Kiroplis, owner of Queen West Physiotherapy, ('Queen West') saw the value in letting their patients text them when they needed something.
The Queen West website mentions eliminating and easing customer pain. Kiropolis had an idea: "Why not let my customers text Queen West when they need something?"
By receiving texts from customers, they would eliminate the pain that can come with contacting a business such as:
Too busy to call
Not being able to get through by phone
Being put on hold
Having to leave a voice message
Not in the mood to listen or talk to someone
Hard to hear
"We value our patients' time and understand that not everyone wants to, or has the time to make a phone call," Kiroplis adds, "Sometimes, when I am pressed for time, I would like to text to get info or a quick answer, it is fast and easy, I just don't want to talk to someone."
But could a business receive a text message?
Kiroplis found Biz Text, which allows a business to receive a text message. Queen West was given a local number that was placed on their website with button which reads: 'Text Our Front Desk.' When a customer sends a text to that number, the text is shown on PC at the front desk. The receptionist can reply to the text from their PC. Texts from customers are also simultaneously forwarded to Kiroplis' phone and he can reply from his phone if he chooses to.
When Queen West first signed up to Biz Text in August of 2018, the business averaged about one to two inquiries from new patients every week. Since the start of the year, they receive, on average about 60 texts a week or 250 texts a month. The texts range from appointment booking, changing, or canceling appointments, to questions about treatments, or hours, or inquiries about product availability. "I immediately saw the benefits and knew I wanted us to receive texts," comments Kiroplis.
"Sometimes, it is hard to hear the patient on their end, or it is busy with patients, and equipment running on our end," comments Head Administrator, Bal Pannu, "A text eliminates all of that so we can attend to their needs quickly."
Texting makes it easier for the patient to cancel or say they are running late without feeling judged or that they are causing a problem. Jas sent a text at 10:57 a.m. to cancel and rebook an appointment, minutes before Queen West opened. At 10:59 a.m., she received a reply, "Hi Jas, I canceled today, and we will see you tomorrow at 2 p.m."
"Texting gives more of a feeling of a relationship. It is informal. Such as texting a friend; there is a sense of trust and comfort," comments Kiroplis.
Texting has allowed some patients to be able to communicate at a more personal level to reveal and discuss things that they may not be able to do in person or over the phone. In doing so, they can receive a service they may otherwise have not reached out for in a call.
Texting provides a way for customers to quickly deal with something and get the sense that it is delivered, checking it off the to do list. For example, they do not have to wait until business hours and can send a text during off hours. If the business is open, they are not waiting on hold, not having to leave a voice message, or not having to try again later.
No matter where Kiroplis is or what he is doing, he gets the text and can reply directly from his phone; as he would any text. The patient sees the Queen West number, not his personal number. The system allows to set business hours, and when a patient texts after hours, they receive a message.
Even when closed often Kiroplis will reply, especially if urgent. "It provides a sense of convenience, It's all about being flexible and adapting to our patients," comments Kiroplis.
Sandra sent a text to Queen West inquiring about an Acupuncture Course that Queen West offers to health care professionals. Being that is was after Queen West closed hours, she received this automatic After Hours Message.
"Thanks for your text to Queen West Physiotherapy & Acupuncture, we are now closed. We will respond to your message when we reopen on Thursday at 11:00 a.m.".
Even Kiroplis knew Sandra would receive the After Hours Message, and he sent a personal response from this phone that they would get back to her in the morning.
The next day just minutes after opening, Sia Arvaniti, sent a reply text to Sandra with the information she asked for. Arvaniti saw on Texting Dashboard that Sandra sent her text at 10:16 p.m., was sent the After Hours Message, and the response from Kiroplis and that she needed to send a reply.
After a total of 4 more texts received and sent, a total of 166 words, Sandra had the information for herself and colleagues and signed up for the course.
Later that evening, after Queen West Physio's closed hours, Sandra sent a text with an additional question.
The After Hours Message text was sent again, and minutes later, Kiroplis answered. Sandra replied with another question and a screenshot from a website. With the screenshot, Kiroplis was able to respond and answer the question, to the gratitude of Sandra.
Sandra was able to ask six questions, in a total of 126 words over 6 texts, and attended to by Sia, the admin assistant and Kiroplis. This one texting conversation would have been three phone calls, two voice messages, talking to different people; each would most likely not know what the other said.
Pannu finds that younger new patients will send a text, and she comments on how efficient and appreciative they can text. "It is what they are used to doing." She has found it valuable as well, "I would take the time to put together long replies, and now I send quick and concise responses, which is what they want." Pannu adds, "Customers can contact us when convenient for them. If they have just a few minutes, a text will work better for them than a phone call or even an email; sometimes they might not be able to make a call because of where they are or what they are doing".
Patients at Queen West cover generations, Kiroplis understands that each generation has its way to communicate. However, with many different communication channels, people will use what is convenient and most comfortable, which is why Queen West continues to allow communication by phone, email, text, and social media channels.
Kiroplis knows that Millenials are less likely to use the phone and will use texting to communicate. According to a Forbes article, 'Phone Calls, Text or Email? Here's How Millennials Prefer to Communicate', Millenials don't want to make calls, they would rather text. They have an aversion to using the phone, and texting allows them to connect quickly.
Of course, some patients still like to call. One older patient commented after being asked if he texts, "I like calling and talking with Bal, but that's a great idea to allow for texts for those that don't like to call, and it is faster, how does it work…?"
Many first time patients will text for inquiries and then use the service for further communication as it is quick and efficient. When viewing the Queen West a mobile device, visitors see a "Text our Front Desk" button. When clicked it opens up the Queen West Physio number in their message app. They type a message and just like they have contact with Queen West Physio.
In addition to receiving texts, Queen West Physiotherapy and Acupuncture sends out a reminder text for appointments. Unlike other text reminder services, when the customer texts back, they are texting with a real person, Pannu.
Pannu expresses, "Sometimes we get a response that a patient can't make it or just to say thank you." Although Queen West may send an email reminder as well, a texts are viewed and answered more than emails. Not everyone has email on their phone or checks email constantly.
Another benefit is that texting provides a record of the conversation, which many can view and respond. "Texting clears up any miscommunications that can happen as there is a record of what was said" express Kiroplis. There is no need to repeat what you need to someone else and easy for the person responding to review what was done before quickly. A conversation could occur over days with quick questions and responses and with other people, unlike a phone call where each call is essentially a separate conversation.
"At the start of each day, Queen West administrators can have upwards of 10 Voice messages," says Kiroplis. Each voice message needs to be listened to and then followed up with a call. This is done while patients come in and are being attended to.
With after hours texts, they can see new messages, highlighted in a red square, and then respond as needed.This significantly reduces the time needed to respond to inquiries over voice calls.
During the day, especially on busy days, the phone can ring off the hook and there is lots of activity in the clinic. Text messages can easily be seen and answered without listening to voice messages or having to deal with the background noise.
Queen West keeps their Texting Dashboard open on a browser, at all times and has a speaker attached that "dings" when a new message comes in and continues until it answered.
Queen West believes that to provide exceptional service, they need to continue to adapt and allow the most efficient forms of communication available today. Receiving text messages lets their customers contact them through the communication channel with the greatest efficiency and least friction - for both the customer and Queen West. This gives Queen West more time to give their patient the healthcare treatments and services they need.
"Allowing customers to text has taken us to another level of service; without it, we would not be where we are today," comments Kiroplis.
Texting has become the number one form of communication, yet almost all businesses don't allow their customers to text them. Queen West is the only physical therapy clinic in Brampton receiving text messages and one of the handful of others in Ontario that can, the others also being mostly Biz Text customers. Queen West Physiotherapy & Acupuncture is leading the way in a higher level of customer service in adopting this modern yet unused communication channel for business.
"I don't understand why other businesses are not receiving text messages." - Kiroplis.
To learn more about Queen West Physiotherapy & Acupuncture contact Dennis Bartel at (855) 786 - 1969. To learn more about Biz Text contact Dennis Bartel at (855) 786 - 1969 or visit https://www.biztextsolutions.com/