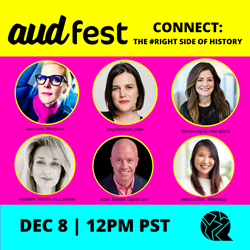 "Now more than ever, audiences have a thirst for authentic content from brands that champion human rights, the climate and racial justice." -- Paige Williams, CEO and founder of AudPop and AudFest
MISSOULA, Mont. (PRWEB) December 03, 2020
For brands in 2020, being on the right side of history is more important than ever. As AudFest 2020 goes virtual (and free) this year from Dec. 8 – 10, 2020, brand leaders, filmmakers and audiences from around the globe will converge to discuss the power of storytelling: how brands stay relevant, build trust and connections with their consumers and employees, and use their own brand stories to make a difference.
Hosted by international content curation company AudPop, AudFest 2020 will provide a stage for brands, agencies, content creators and all changemakers to connect with the innovators who are driving some of the leading brands of our time: Intel, What's App, Capital One, Uber, Roku, Indeed, Flipboard, Cinedigm Networks and more.
"Now more than ever, audiences have a thirst for authentic content from brands that champion human rights, the climate and racial justice," said AudPop CEO and Founder Paige Williams. LGBTQ award-winning filmmaker Williams bootstrapped AudPop to a seven-figure ARR business in 2013 from her home base in Missoula, Mont. Today, she leads a team spanning six time zones providing brands a diverse filmmaker network coupled with exceptional software to deliver authentic curated video content.
From "The Right Side of History" to "From Miss Ann to Karen," AudFest panels will look at the importance of meaningful storytelling for brands in 2020 and beyond.
On Tuesday, Dec. 8 and Wednesday, Dec. 9, the festival starts off at 9 a.m. PST/12 p.m. EST with panel discussions and Q&A sessions around the themes, "Connect. Create. Change." Corporate, nonprofit and agency leaders will discuss how brands and filmmakers are connecting to tell stories and create change. A filmmaker/producer-led panel with Oscar-winning producer Amy Hobby and Issa Rae's COO, Deniese Davis of Color Creative, will explore the impact the year has had on art and lives, specifically at the intersection of race and gender.
Executives from Roku, Flipboard, Cinedigm Networks, TwentyOne14 Media and the first film acquisitions executive of Asian descent in U.S. television history, will discuss how the events of 2020 have changed the way audiences consume content and how networks and streaming services are innovating.
On Thursday, Dec. 10, AudFest 2020 will wrap with a virtual fireside chat featuring West River Group's and social media pioneer Lisa Stone, exploring her white paper "Diversity is a $uperpower" that uncovers an avalanche of data revealing that diverse investing and founding teams drive better financial outcomes.
"AudFest brings us all together to celebrate diversity and stories that can change the world. We strive to create an environment where we can learn from each other, inspire meaningful change and make big things happen, together," Williams added.
To register at no cost and view the full AudFest 2020 schedule and panelist bios, visit AudFest.com.
Here is a taste of who participants will hear from:

Deniese Davis; COO, Color Creative and Producer, Hoorae Media
Sandra Lopez, VP, Intel Sports
Jennifer Vaux; Director Content Acquisition, Roku
Amy Hobby; President, Tangerine Entertainment, Oscar winning Producer
Quincy Newell; CEO, TwentyOne14 Media
Lisa Stone; Managing Director, West River Group
Aidan McLaughlin; Director, Global Branded Content and Storytelling, Indeed
Erick Opeka; President, Cinedigm Networks
Scott Stanzel, VP, Corporate Communications, Capital One
Maribeth Towers; SVP, Consumer Products, MLS Soccer
Meg Donovan; Director, Brand and Product Marketing, Uber
Claus Enevoldsen; VP, Global Growth and Business Development, Flipboard
Matt Anderson; Director, Institute for Family
Paige Williams; Founder and CEO, AudPop
Nichelle S. Carr; Chief Content Officer, AudPop
About AudPop
Since 2013, AudPop has connected over 75,000 diverse filmmakers with brands and audiences through the creation, curation and promotion of authentic storytelling content. Its annual festival, AudFest, connects brands and filmmakers, audiences and authentic stories to facilitate collaboration and change. AudPop.com