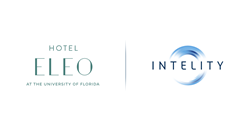 "Our core belief is that innovation and top-level customer service go hand-in-hand. That's why we're so excited about our new mobile app," noted Rich Richardson, General Manager at Hotel Eleo.
LOS ANGELES (PRWEB) July 29, 2020
INTELITY®, the provider of hospitality's most comprehensive guest experience platform, has signed a deal with Hotel ELEO at the University of Florida to deliver contactless service to guests with a branded mobile app. The app will supply robust digital capabilities and another layer of safety for guests and staff at the new, upscale hotel in Gainesville, Florida.
With the new app, guests will have the ability to tailor service to their preferences before, during, and after their stay. The mobile capabilities allow travelers to find hotel and amenity information, make reservations, and more directly from their smartphone or tablet. Meanwhile, Hotel ELEO can use SMS and in-app messaging to connect with guests in real-time.
"Guests of Hotel ELEO at the University of Florida have easy access to top-of-the line technology and comfort in their rooms, in the fitness studio, and in the meeting space," remarked Rich Richardson, General Manager at Hotel ELEO. "Our new mobile app, which offers a secure and convenient way to check-in, unlock your room, and communicate with the hotel team, is right in line with our goal to provide 'state-of-the-heart' hospitality."
As COVID-19 remains a significant challenge throughout the country, the contactless services provided by the new Hotel ELEO app will enable guests to check in before they even arrive and access their room with a secure digital key. During their stay, they'll have the option to request contactless services and touchless deliveries. The contactless services enabled by the new Hotel ELEO app provide a convenient, secure way for guests to check-in to the hotel, access their room through a digital key, and communicate with the front desk team.
"We're extremely pleased that Hotel ELEO has signed on with us," said Robert Stevenson, INTELITY CEO. "This is already a beautiful, tech-focused property led by a team that understands true southern hospitality. Giving guests a mobile-first experience will just further set them apart as a leader in luxury, safety, and excellent service."
The newly-opened Hotel ELEO combines minimalist contemporary design, delicious gastronomic experiences, and cutting-edge event spaces to create unforgettable stays for both business and leisure travelers. Now, it'll further embrace future-forward hospitality technology with a custom INTELITY app, guest messaging, and digital capabilities. For more information on this partnership or the INTELITY platform, please visit http://www.intelity.com.
About INTELITY
INTELITY is the global provider of the most advanced hospitality technology platform for the hotel, casino, cruise, and luxury residential markets. INTELITY offers its customers comprehensive, fully integrated solutions to better connect and manage their guest experience and staff operations in a single platform. INTELITY has been named the "Official Mobile and In-Room Technology Provider" by the distinguished Forbes Travel Guide in 2018, 2019, and 2020, and is in use by major hotel groups, including Marriott, Fairmont, Four Seasons, and more. For more information or to view current job openings, please visit http://www.intelity.com.
About Hotel ELEO at the University of Florida
Hotel ELEO at the University of Florida, a 173-room luxury boutique hotel, is located in Gainesville, Florida. The hotel is home to Covey Kitchen + Cocktails, offers flexible meeting and event space, features top-of-the-line equipment in the fitness studio. The hotel is in walking distance to restaurants, galleries, theaters, stadiums on the University of Florida campus and UF Health, the University of Florida's academic health center. For more information visit HotelEleo.com or call 352-565-3536.