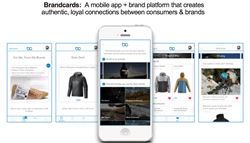 Brandcards: Find the brands you love, let them love you back!
Boulder, Colorado (PRWEB) May 10, 2017
Brandcards, a new IOS app that enables consumers to find, engage and shop directly with their favorite brands, has launched its Outdoor Edition. Brandcards Outdoor Edition lets consumers identify their favorite outdoor sports and brands, automatically providing personalized product updates, offers, articles and videos filtered for only what the user wants to see all from the convenience of one app.
The new Brandcards Outdoor Edition covers 140 brands with over 50,000 products, spanning 15 outdoor sports such as running, cycling, climbing, hiking, swimming and others.
Creating the personalized shopping experience is simple. After consumers download the Brandcards app, the app guides them through a simple two-step process: First, consumers select their favorite outdoor sports and next they invite their favorite brands within each of those sports to provide product and content recommendations relevant to those sports. Brands use this constantly updated profile to deliver timely and responsive content, products and special offers directly to consumers. Consumers maintain complete control while the app eliminates unwanted product and content clutter. Consumers can now enjoy a shopping experience that is completely tailored to them with only the products and content that are personally meaningful to them. And when a consumer is ready to buy, it's easy to find the most current offers and to buy products directly from brands or from preferred retailers.
"The promise of a better, more personalized digital experience in exchange for sharing of data has not come anywhere close to meeting expectations," said Jim Dodd, Brandcards CEO. "When there's so much commercial clutter, it's hard for a consumer to identify the product and brand information they ARE interested in. Brandcards is a place where consumers invite brands in, and can be transparent about the content they want, on their terms. Advertisers want a 2-way relationship too - we think we've created a format that starts with the trust needed to achieve that. "
Brandcards is not just a means for selling product; it's a medium to provide rich content that improves the lives of outdoor enthusiasts within the sports they love. Whether it's providing instructional training tips from pros or recommendations for diet and exercise, Brandcards purpose is to enable brands to improve the lives of their "fans" by giving them the tools, tips and products they need to achieve peak performance in their preferred outdoor sports.
Amber Milos, Brandcards' CMO, added, "We've heard from consumers that they are frustrated with the constant stream of ads in their social media, where it's a real distraction. We all go to social media sites to connect with friends, family and interests we care about, not to engage with ads or buy products. With Brandcards, there's now a way to connect with the brands you love on your terms, and get rewarded for it."
Currently, Brandcards is only available in the Apple IOS App Store. Android and Website versions are planned for future release.
Please go to http://www.brandcards.com to download the Brandcards app.
Brands can learn more about becoming a Brandcards partner by going to http://www.brandcards.com/partner-platform/.
About Brandcards:
Brandcards allows consumers to find the brands they love, and lets those brands love them back. On the Brandcards App, consumers enjoy a personalized experience showcasing gear, apparel, articles, videos, recommendations and more from only their favorite brands and about only their favorite sports. The platform enables brands to learn more about their customers' interests and to respond directly to them with relevant content, products and special offers. Initially introduced for active outdoor consumers and brands, Brandcards plans to expand into other interest categories where brands and consumers can build direct, authentic relationships. Brandcards gives brands the ability to learn more about exactly what their customers want and provides them a platform to deliver a superior, personalized experience to those consumers that love them. For more information or to download the IOS app, go to http://www.brandcards.com or email us at info(at)brandcards.com.