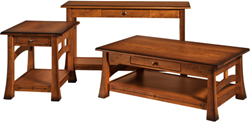 Lovers of Amish furniture can save money on TV cabinets, coffee table sets and more during Brandenberry's New Year Sale, running through January 7, 2020.
SHIPSHEWANA, Ind. (PRWEB) January 05, 2020
Lovers of Amish furniture can end the old year and begin 2020 with the clear vision to save money on TV cabinets, coffee table sets and more. Brandenberry Amish Furniture of Shipshewana, Indiana, is hosting a New Year Sale, which runs through January 7, 2020.
All in-stock TV cabinets at Brandenberry Furniture are on sale at 20 percent off during the New Year Sale. These TV cabinets are handcrafted by Amish cabinetmakers using solid hardwood. As a result, the TV consoles are of a higher quality and can outlast TV cabinets made on an assembly line using wood substitutes like particle board. Brandenberry's TV cabinets also have a number of deluxe features such as soft-close doors and drawers, dovetail drawer joints, adjustable shelves and mullion glass doors.
Brandenberry is also offering its entire lineup of 3-piece coffee table sets at 20 percent off regular retail. These Amish-built, solid hardwood coffee tables come in a vast array of designs – from tradition to modern, rustic to ornate. So customers can choose a coffee table set that seamlessly matches the décor of their living room or family room.
Every item not otherwise earmarked is on sale for 12 percent off during Brandenberry's New Year Sale. These items include quality Amish furniture for the bedroom, living room, dining room plus in-home office. Home accessories -- including wall hangings and craft items -- are also on sale at 12 percent off.
The Brandenberry New Year Sale runs through January 7, 2020. Brandenberry Amish Furniture is closed Sunday, January 5 and Monday, January 6, 2020. Brandenberry Amish Furniture is located at 1045 North State Road 5 in Shipshewana, Indiana. The store can be found behind the 5&20 restaurant at the intersection of State Road 5 and US 20, near the Indiana Toll Road. The store is open Monday through Saturday from 9 a.m. to 5 p.m. and by appointment.
About Brandenberry Amish Furniture
Brandenberry Furniture opened its doors in 2008. The Brandenberry Furniture concept allows customers to design the furniture of their dreams. Including to explore the rich woods and stains that only nature can offer. Nothing matches the feel, the smell and the weight of hickory, oak, cherry and maple. And these real woods come to life in an Amish handcrafted piece. Also, the pieces are meant to last a lifetime and beyond.
Is your favorite furniture style Mission, Traditional, Modern or something in between? If Brandenberry Furniture doesn't carry it, our craftsmen will build it to your specifications.
At Brandenberry Furniture, we offer everything from bedroom and dining collections to home accessories. Also patio and exclusive furniture pieces. So browse our easy-to-use website. It contains detailed photographs and information. Also, you'll find furniture categorized by room. These include family room, dining room, bedroom, office and children's furniture.