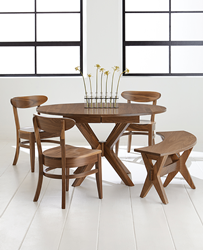 As a result, furniture lovers can buy a Vadsco set that's uniquely there own.
SHIPSHEWANA, Ind. (PRWEB) January 31, 2019
The recently introduced Vadsco Table Set from Brandenberry Amish Furniture in Shipshewna, Indiana, brings a grand European furniture design and solid hardwood Amish construction to smaller dining areas.
The Vadsco Table features an innovative, oval-shaped top made of 1-inch solid hardwood. And the solid top rests on a modern, Euro-style, solid wood pedestal. So the table is both eye-catching and sturdy. Brandenberry offers the dining table in a standard length of 54 inches and in widths of 42 or 48 inches. Also, furniture shoppers can choose a tabletop without leaves. Or, they can select a table with a 12-inch leaf, for added space.
Designers created the Vadsco Bench with a curved seat and splayed legs. This Euro design style perfectly complements the Vadsco Table. The 54-inch-long bench gives a trendy, yet friendly, feel to any dining area. Furniture buyers wishing to add extra seating to the collection can order two benches. Or, they can choose from among the hundreds of dining room and kitchen chairs offered by Brandenberry.
The Vadsco Table and Bench are available in several wood species. They include oak, cherry and maple. In addition, customers can choose from a plethora of stain and other finishing options. As a result, furniture lovers can buy a Vadsco set that's uniquely there own.
Skilled Amish cabinetmakers custom-build each Vadsco Table Set. Also, the Amish men use solid regional hardwoods, plus tried-and-proven woodworking skills handed down from their ancestors. As a result, the pieces are incredibly sturdy. In fact, with proper care, they should easily become family heirloom items.
The Vadsco Table and Bench can be ordered online. Or, customers can visit Brandenberry's 'brick and mortar' store in Shipshewana, Indiana. The store is located at 1045 North State Road 5 in Shipshewana, at the intersection of State Road 5 and US 20, near the Indiana Toll Road. The store is open Monday through Saturday from 9 a.m. to 5 p.m. and by appointment.
About Brandenberry Amish Furniture:
Brandenberry Furniture opened its doors in 2008. The Brandenberry Furniture concept allows customers to design the furniture of their dreams…to explore the rich woods and stains that only nature can offer. Nothing matches the feel, the smell and the weight of hickory, oak, cherry, maple…real woods that come to life in an Amish handcrafted piece. They are meant to last a lifetime and beyond.
Whether a customer's favorite style is Mission, Traditional, Modern or something in between, if Brandenberry Furniture doesn't carry it, their craftsmen will build it to specification.
Brandenberry Furniture offers everything from bedroom and dining collections to home accessories, patio and exclusive furniture pieces. Browse the easy-to-use website with detailed photographs and information, and you'll find furniture categorized by room (including family room, dining room, bedroom, office, children's) as well as by wood species (including oak, hickory, cherry, elm, maple, pine and cedar) and style.