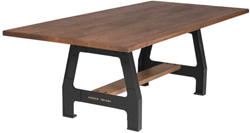 The Laredo Table gives today's trendy homeowners options for edgy, well-built furniture.
SHIPSHEWANA, Ind. (PRWEB) October 23, 2018
The edgy Laredo Table from Brandenberry Amish Furniture epitomizes the trend in which 'upscale' dining tables represent the pairing of a solid hardwood top with a sturdy, beautifully designed metal base.
In creating the Laredo Table, Amish Craftsmen combine their cabinetmaking expertise with their knowledge of metal working. The result is a table that bridges rural and industrial America. Craftsmen create the tabletop from 1 1/2-inch-thick solid hardwood. Then, they finish the top with a reclaimed texture – complete with a machine saw look. Or, they give the tabletop a smooth finish.
In addition, craftsmen create the base of the Laredo Table from forged aluminum. But, they form the aluminum in an I-beam-style. Also, they complete the look with hefty bolts and the tag "GOSHEN INDIANA" vividly contrasting with the dull black, wrought-iron-looking pieces of forged aluminum.
As a result, the Laredo Table enables trendy home and apartment owners to express their ideas of lavish design through innovative cutting-edge furniture styles instead of traditional hardwood furniture designs.
"We're offering the Laredo Table because we want to give today's trendy homeowners options for edgy, well-built furniture," says Floyd Eash, furniture consultant at Brandenberry Furniture.
The Laredo Table is available with several optional sizes and configurations. Available wood species include maple, cherry, rustic cherry and oak. The table can also be ordered in quarter-sawn oak. This cut makes the wood even more stable and gives it a spectacular woodgrain.
Standard sizes for the table are 36 inches wide by 84 inches long, 42 inches wide by 72 or 84 inches long, and 48 inches wide by 72 or 84 inches long. Individuals looking for an even longer table can add up to four 12-inch leaves with the 72-inch table. In addition, the table can be complemented with the Laredo Bench. Shoppers can select from any of the many dining room and kitchen chairs from Brandenberry Amish Furniture.
The Laredo Table can be ordered online. Or, customers can visit Brandenberry's 'brick and mortar' store in Shipshewana, Indiana. The store is located at 1045 N. State Road 5 in Shipshewana, at the intersection of State Road 5 and US 20, near the Indiana Toll Road. The store is open Monday through Saturday from 9 a.m. to 5 p.m. and by appointment.
About Brandenberry Amish Furniture:
Brandenberry Furniture opened its doors in 2008. The Brandenberry Furniture concept allows customers to design the furniture of their dreams…to explore the rich woods and stains that only nature can offer. Nothing matches the feel, the smell and the weight of hickory, oak, cherry, maple…real woods that come to life in an Amish handcrafted piece. They are meant to last a lifetime and beyond.
Whether a customer's favorite style is Mission, Traditional, Modern or something in between, if Brandenberry Furniture doesn't carry it, their craftsmen will build it to specification.
Brandenberry Furniture offers everything from bedroom and dining collections to home accessories, patio and exclusive furniture pieces. Browse our easy-to-use website with detailed photographs and information, and you'll find furniture categorized by room (including family room, dining room, bedroom, office, children's) as well as by wood species (including oak, hickory, cherry, elm, maple, pine and cedar) and style.