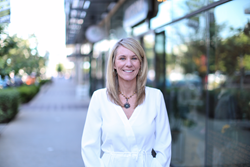 NEW YORK (PRWEB) May 08, 2019
Communication Service for the Deaf (CSD) announced today that Brandi Rarus, a leading marketing communications executive, has been named to CSD's Board of Directors. Rarus begins her three-year term July 1, 2019.
Rarus, a former longtime CSD employee, was an indispensable part of CSD's evolution in becoming the world's largest deaf-led social impact organization. She has been in the front row at almost every major milestone when CSD made significant contributions to advance opportunities for the deaf community, including the start of telecommunications relay services.
"I am delighted to welcome Brandi to our Board of Directors," said Chris Soukup, CEO of CSD. "Brandi has worked with CSD, the portfolio of CSD companies, and our network of partners in numerous capacities over the last three decades. She has been instrumental in driving increased awareness of CSD's expanded focus from communication access to include employment, education, technology, and addressing societal biases and misconceptions about deaf people and their abilities. We are extremely fortunate that she is joining our board leadership and look to her continued guidance as a fierce proponent of the change we are working to achieve in our world."
Rarus has more than 25 years of marketing, communications and sales experience spanning the private and nonprofit sectors. She spent 11 years at Sprint in account management and executive sales and more than 13 years at CSD in a variety of marketing communications and business development roles. In her most recent role at CSD, she served as Vice President of Public Relations, Engagement & Policy, leading a team in the areas of media relations, brand management, corporate communications, social media, public policy and community engagement.
Rarus said, "I am very proud to have supported CSD's evolution and expansion from a focus on communication access to changing perceptions and elevating awareness of deaf people and their value, and through that, cementing deaf people's place in the world as an essential part of human diversity. I am honored to be asked to continue my service to CSD, the incredible people who work for it, and the deaf community while on the Board of Directors."
Brandi is the Executive Director of the Office of University Communications for Gallaudet University, overseeing all marketing, communications, public relations and social media. She holds a bachelor's degree in social work from Rochester Institute of Technology and is the author of "Finding Zoe: A Deaf Woman's Story of Identity, Love, and Adoption," a widely-acclaimed memoir about acceptance and finding her adopted daughter, Zoe.
Directors currently serving on CSD's Board: Philip Bravin, Jameson Crane, Jr., Marwan Elrakabawy, Rogelio Fernandez, Jr., Bruce Hodek, Danny Lacey, Khadijat Rashid, Mark Seeger and Marilyn Jean Smith.
Media Contacts:
The Durkin Agency
karen.durkin(at)thedurkinagency(dot)com