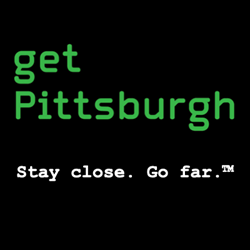 Our goal is to expose and share Pittsburgh's inspiring reality. - Carlos Tribino, CEO of The Machine
PITTSBURGH (PRWEB) December 02, 2020
Brand consultancy The Machine announces the launch of the "get Pittsburgh" initiative it produced for the Pittsburgh Technology Council. The website, live at https://www.getpgh.com, is a testament of Pittsburgh's 21st century renaissance as a model of a city, offering an unrivaled quality of life in a collaborative community driven by a transformative tech scene that is changing the way the world works and lives.
"We are extremely proud to launch this initiative and tell the true Pittsburgh story as it hasn't been told before," explains Carlos Tribino, founder and CEO of brand consultancy The Machine. "Growing up in New York City, and having traveled through 40 states, I have seen a vast gap between the perception of Pittsburgh outside western PA and its actual reality. Our goal is to expose and share Pittsburgh's inspiring reality so that everyone can get the real Pittsburgh and the life-changing initiatives coming out of here."
Pittsburgh's evolution into a technology mecca from robotics to AI, machine learning and life sciences, has made it one of the "it" places for tech firms and talent. Companies like Google, Uber, Argo and Zoom have set up shop in town and there are a myriad of early stage firms developing self-driving cars, trucks and helicopters or sending lunar landers to the moon.
"It is exhilarating to see how fast and how far our technology ecosystem has come," comments Audrey Russo, CEO of the Pittsburgh Technology Council. "We have become one of the most important tech hubs in the country, led by a culture of collaboration and innovation, which strongly sets us apart - a place where people are quite literally changing the world and beyond."
The narrative of get Pittsburgh, told by numerous of the city's protagonists, expands well beyond business and technology. The city has a thriving dining scene, endless miles of parks, rivers and bike trails, a compelling cultural offering and plenty of sports, all at a very modest price tag - a big driver for talent and employers alike. get Pittsburgh invites all neighbors and visitors to join us in telling this unfolding story, because together we stay close to go far.
About The Machine
THE MACHINE is a Pittsburgh based brand consultancy that helps brands develop emotive connections with their audiences, turning them from customers into fans, thus maximizing organic growth. THE MACHINE identifies the brand's strongest unique assets - its mechanical advantage - and develops a brand narrative, design, experience and/or architecture in a verbal and graphic language that resonates in a most compelling way. For more information, visit https://www.themachine.biz.
About the Pittsburgh Technology Council
The Pittsburgh Technology Council is driven to help its members connect with people and organizations they need for success. Whether you're trying to reach new customers, build partnerships or secure funding, the PTC can facilitate introductions through our extensive network of relationships and connections. The PTC can help you in our own backyard or internationally. For more information, visit https://www.pghtech.org.