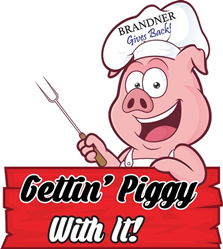 "We are excited to host our First Annual Gettin' Piggy With It' event and car raffle drawing to help raise funds for The Al Copeland Foundation, Dress for Success New Orleans, and the Junior League of New Orleans." -Mike Brandner
NEW ORLEANS (PRWEB) September 06, 2019
Brandner Gives Back​ invites all of NOLA to attend their First Annual ​Gettin' Piggy With It​ charity fundraiser on October 19, 2019 from 6:00 p.m. to 9:00 p.m. at Central City BBQ. Those who attend will enjoy ​fine food  and drinks, plus the musical talents of The Chee Weez — all while helping raise funds to  directly benefit three exceptional local community organizations: The Al Copeland  Foundation, Dress for Success New Orleans, and the Junior League of New Orleans. The  cost of admission also includes a raffle ticket for a chance to win a 2019 Ford Mustang.  Additional $30 ​raffle tickets (or 4 tickets for $100) may also be purchased in advance for the chance to win a scintillating 2019 Ford Mustang! The winner of the new 2019 Ford Mustang will be announced at the event, but the winner need not be present to win.
Brandner Gives Back co-founder Mike Brandner extends the following invite, "​We are excited to host our First Annual Gettin' Piggy With It' event and car raffle drawing to help raise funds for ​The Al Copeland Foundation, Dress for Success New Orleans, and the  Junior League of New Orleans​. Each of these local community organizations do so much to make a difference in the lives of those in need in NOLA that it is our privilege to put together this fundraiser to further support their positive efforts. Please join us in giving back by purchasing a raffle ticket and an entrance ticket to attend our Gettin' Piggy With It fundraiser.​"
Raffle tickets and general admission or patron tickets to Gettin' Piggy With It may be purchased online now​. Raffle tickets for the new Ford Mustang drawing may also be conveniently bought by texting ​"Win a Car"​ to 44321. Both tickets to the event and to win the Mustang can be purchased at 3621 Veterans Memorial Blvd, Metairie, LA 70002. Official rules for the raffle ticket drawing may be found at BrandnerGivesBack.com​.
More About Brandner Gives Back
Brandner Gives Back, LLC is a community based non-profit organization founded by Mike and Katie Brandner of Mike Brandner Injury Attorneys. They developed the 501c3 Foundation as a means to help feed and support inner-city families in NOLA by paying forward their successes, comforting those in pain, and giving hope to those in need. Learn more about the many different charitable groups and programs Brandner Gives Back actively engages with and supports at ​brandnergivesback.com​. To connect socially, follow them on ​Instagram​ and ​Twitter,​ and like them on ​Facebook​.