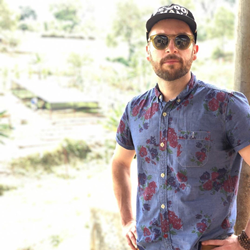 "Serving on the SCA Chapter Committee is another way for Crimson Cup to give back to the community and help shape the future of specialty coffee in the U.S." - Brandon Bir
COLUMBUS, Ohio (PRWEB) June 11, 2021
Brandon Bir, director of sustainability for Crimson Cup Coffee & Tea, has been named East Regional Coordinator for the Specialty Coffee Association USA Chapter Committee.
Elected to a two-year term, Bir is one of 12 new members of the 20-member committee.
"Brandon is one of the most highly qualified coffee professionals in the country," said Founder and President Greg Ubert. "We're proud of his contributions to the specialty coffee industry and Crimson Cup."
The SCA USA Chapter is one of over 30 global chapters. National Chapters support their local coffee communities and represent the SCA's vision, mission and purpose.
In his new role, Bir will work with fellow East Regional Coordinator Erica Jackson to organize membership, events, networking and education.
He also plans to raise national visibility and connections for Ohio specialty coffee professionals – including helping them prepare for preliminary rounds of the SCA US Barista, Brewers Cup, Coffee in Good Spirits, Cup Tasters and Roaster championships in 2022.
"As a committee member, I can give a voice to specialty coffee in Ohio on a national stage," he said. "I also will be responsibility for growing the industry here and helping to make the industry more inclusive."
One of his goals is to give local coffee professionals an opportunity to share their perspective while working in Ohio.
"Serving on the SCA Chapter Committee is another way for Crimson Cup to give back to the community and help shape the future of specialty coffee in the U.S.," he said.
"It also allows us to share our passion for equality in the supply chain and building healthier communities. It's all part of our focus on good."
As Director of Sustainability for Crimson Cup, Bir travels over 100,000 miles annually to grow relationships with coffee farmers and processors. The roaster maintains over 50 mutually rewarding relationships with smallholder coffee farmers.
Through its Friend2Farmer initiatives, Crimson Cup makes meaningful impacts in coffee farming communities through social, economic, environmental and community development projects.
Bir has over 14 years of specialty coffee experience. He joined Crimson Cup in April 2010, after serving for three years as manager and trainer for the Nordstrom Coffee Bar.
He teaches classes and judges at coffee industry events, including the Golden Bean North America and Australia/New Zealand coffee roasting awards.
Among other coffee industry qualifications, Bir is an Assistant Q Instructor for the Coffee Quality Institute, SCA Lab/Campus Inspector, Authorized SCA Trainer (AST), SCA Specialized Instructor and SCA Lead Instructor.
He also serves on the board of the Ohio Culinary Science Advisory Board and volunteers as an SCA Sensory Skills Course Contributor.
About Crimson Cup Coffee & Tea
Columbus, Ohio coffee roaster Crimson Cup Coffee & Tea is celebrating 30 years of Coffee + Community. Since May 1991, Crimson Cup has roasted sustainably sourced craft coffee for consumers and wholesale coffee customers. It is a 2020 Good Food Award winner, 2019 Golden Bean Champion for Small Franchise/Chain Roaster and Roast magazine's 2016 Macro Roaster of the Year.
Through its 7 Steps to Success coffee franchise alternative program, the company teaches entrepreneurs to run independent coffee houses in their local communities. By developing a coffee shop business plan, entrepreneurs gain insight into how much it costs to open a coffee shop.
Crimson Cup also supports life-enriching projects through its Friend2Farmer™ initiatives, promoting the education, health, sustainability and economic growth of small-plot coffee farmers and their communities.
Crimson Cup coffee is available through over 350 independent coffee houses, grocers, college and universities, restaurants and food service operations across 30 states, Guam and Bangladesh. The company also operates several Crimson Cup Coffee Houses and a new Crimson retail flagship store. To learn more, visit crimsoncup.com, or follow the company on Facebook and Instagram.