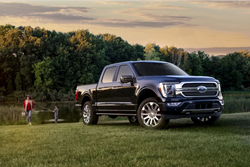 TAMPA, Fla. (PRWEB) November 25, 2021
Florida pickup truck buyers looking to grab a good deal on a new Ford F-150 can look forward to getting just that at their favorite Brandon Ford dealership in Tampa. The World's Largest Volume Ford Dealer has some exciting Clearance Specials running on new Ford F-150 models and invites interested parties to check out its Clearance Specials Ford F-150 and make the most of the opportunity.
The New Ford F-150 Clearance Specials Page at the Brandon Ford dealership feature Ford F-150 models that have remained unsold for a little longer than average on the dealership's lot. Customers can rest assured the Ford F-150 models featured in the Clearance Specials are unused and brand-new but have remained unsold at the Brandon Ford dealership lot for some reason.
Those interested can look forward to getting a desirable deal on the clearance F-150 models as these vehicles are listed with some of the lowest pricing imaginable. The Clearance Specials page currently features a new in-transit 2021 Ford F-150 XL 4x2 pickup truck.
Brandon Ford F-150 clearance deals are sorted by selling price, so customers can use the price filters when scrolling through the list.
Interested parties can learn more about the Brandon Ford New Ford F-150 Clearance Specials by visiting http://www.brandonford.com/f-150-trucks-on-clearance. Customers can make detailed inquiries regarding the availability of any of the clearance Ford F-150 models at Brandon Ford by calling 813-371-7945 or via email at tmurray@brandonford.com.
Brandon Ford is located at 9090 Adamo Drive, Tampa.