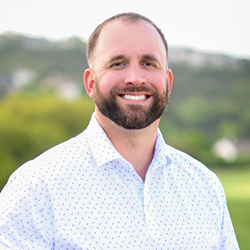 Key24 remains dedicated to clients well beyond the closing table
AUSTIN, Texas (PRWEB) December 22, 2022
Key24 Realty today announced its partnership with Side, the only real estate technology company that exclusively partners with high-performing agents, teams, and independent brokerages to transform them into market-leading boutique brands and businesses. The alliance will ensure that Key24 Realty's client-focused, integrity-driven service is powered by the industry's most advanced platform.
Key24 Realty founder Brandon Foskey began his real estate career in 2010 and has sold over 700 homes in 34 states. In 2015, Foskey shifted his focus solely to the Greater Austin area; since 2016, his transaction volume has exceeded $73 million. Foskey's in-depth knowledge of Travis, Williamson, Hays, Burnet, and Bastrop counties allows his clients to find their dream homes quickly, and his sellers often receive top dollar for their sales. Key24 Realty, Foskey's latest venture, comprises a team of proven professionals who exemplify his core values of clear communication, unshakable integrity, and tireless determination.
"Key24 remains dedicated to clients well beyond the closing table," Foskey said. "Like a good friend, we're ready to answer their call and provide anything they might need, whether it's advice or contact information for one of our trusted vendors."
Partnering with Side will ensure Key24 Realty remains on the cutting edge of the evolving real estate market while continuing to deliver premium services to its clients. Side works behind the scenes, supporting Key24 Realty with a one-of-a-kind brokerage platform that includes proprietary technology, transaction management, branding and marketing services, public relations, legal support, lead generation, vendor management, infrastructure solutions, and more. Additionally, Key24 Realty will join an exclusive group of Side partners, tapping into an expansive network from coast to coast.
"By partnering with Side, I can build my brand without the stress and liability of being a broker," Foskey said. "Side provides us with access to state-of-the-art marketing, technology, administrative, and legal services, so we can spend more time focusing on our clients' goals."
About Key24 Realty
Key24 Realty is a highly responsive and client-focused real estate company that serves buyers, sellers, and investors across Greater Austin, including Travis, Williamson, Hays, Burnet, and Bastrop counties. Fueled by honesty, determination, persistence, and a strong work ethic, Key24 Realty helps its clients find dream homes quickly, and its sellers receive top dollar for their sales. For more information, visit http://www.key24realty.com.