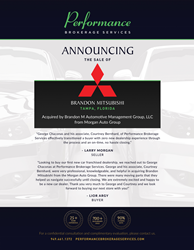 "George Chaconas and his associate Courtney Bernhard of Performance Brokerage Services effectively transitioned a buyer with zero new dealership experience through the process and an on-time, no hassle closing."- Larry Morgan
IRVINE, Calif. (PRWEB) December 04, 2020
Performance Brokerage Services, a new car and Harley-Davidson dealership broker announces the sale of Brandon Mitsubishi in Tampa, Florida from Morgan Auto Group to Brandon M Automotive Management Group, LLC
Brandon Mitsubishi, owned by Morgan Auto Group, was part of Larry Morgan's 40-plus dealership group. Recognized in 2008 by Toyota and Time Magazine for his success in sales, customer service, and charitable work in the community, it is no wonder that Tampa Bay CEO Magazine called him one of the Top-100 Most Influential Business Leaders in 2009. Following the sale, Morgan commented, "George Chaconas and his associate Courtney Bernhard of Performance Brokerage Services effectively transitioned a buyer with zero new dealership experience through the process and an on-time, no hassle closing."
Over the last 5 years,Performance Brokerage Services has represented for sale over 250 automotive and motorcycle dealerships making it the highest volume automotive and motorcycle dealership brokerage firm in North America. George C. Chaconas, the exclusive advisor for this transaction and the Southeast Partner for Performance Brokerage Services commented, "In my 20 years of brokering car stores, nothing gives me more pleasure than helping first-time buyers acquire their first new car franchise. The buyers came to Performance Brokerage Services after researching the top brokerage firms. They had been looking for the right opportunity and the Morgan Auto Group was looking to divest this asset. With the diligence of the Morgan Auto Group and General Counsel, Travis Santos, we were able to negotiate a fair, quick deal and get the manufacturer approval. We wish the buyers great success, and thank Mr. Morgan for the opportunity to be of service."
Brandon M Automotive Group, LLC is owned by David Argy, Lior Argy, Mordi Kislasi, and Yossef Cohen. Their background is in independent automotive sales. Lior Argy stated, "Looking to buy our first new car franchised dealership, we reached out to George Chaconas at Performance Brokerage Services. George and his associate, Courtney Bernhard, were very professional, knowledgeable, and helpful in acquiring Brandon Mitsubishi from the Morgan Auto Group. There were many moving parts that they helped us navigate successfully until closing. We were extremely excited and happy to be a new car dealer. Thank you very much to George and Courtney and we look forward to buying our next store with you!"
The dealership will remain at its current location at 9905 E Adamo Dr Tampa, Florida until further notice.
The seller was represented by Travis Santos, General Counsel of Morgan Auto Group.
The buyer was represented by Alex Kurkin, Esq. of Kurkin Forehand Brandes LLP
About Performance Brokerage Services
Performance Brokerage Services, Inc. is the nation's highest volume dealership brokerage firm, specializing in intermediary services to buyers and sellers of automotive, commercial truck, motorcycle, RV and equipment dealerships.
Performance Brokerage Services offers a unique approach by providing complimentary dealership assessments, no upfront fees, no reimbursement of costs and is paid a success fee only after the transaction closes.
Clients benefit from utilizing an extensive network of industry related accountants, attorneys, hundreds of registered buyers and longstanding relationships with most of the auto manufacturers.
With corporate offices in Irvine, California, and 5 regional offices in Utah, Florida, Texas, Virginia and New Jersey, Performance Brokerage Services provides its clients national exposure with local representation.
After 25 years, 700 transactions and with a 90% closing rate, the company's reputation is unmatched and governed by the utmost ethical conduct, integrity and transparency.
For more information about the services offered by Performance Brokerage Services, visit https://performancebrokerageservices.com.