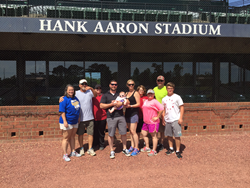 Mobile, AL (PRWEB) June 09, 2016
Brandon Shreves, founder and owner of Shreves Insurance, is proud to announce Team Shreves Insurance, he, along with his wife and daughter, recently participated in the MDA Muscle Walk of South Alabama Gulf Coast, which raises funds for muscular dystrophy research and treatment, and anchored several sponsorships for the walk, in addition to his own. "The abilities that most of us take for granted, such as the ability to walk, run, even breathe, are taken away from children and adults who suffer from muscular dystrophy," said Shreves. "Most people don't even realize what muscular dystrophy is or the effect that it has on an individual and their family unless they are personally affected by MD. I like to help raise awareness any way I can."
Shreves also recently participated in the Blue Star Salute 5K Run/Walk for Alabama's fallen heroes since 9/11. Blue Star Salute of Alabama is a concerted effort by local, state and national military, political, veteran and caring citizen groups and organizations and sets aside a day for particularly significant appreciation and honors for America's military of all branches. "There are men and women that spend months, even years, away from their families risking their lives for American citizens to be able to live our lives," said Shreves.
Shreves adds that he looks forward to seeing this event, which is in its twelfth year, continue to grow each year. "If participating in an event like this can make just one more person realize the sacrifices these men and women make for us and honor their service, that is fantastic," said Shreves. "There are so many great organizations and events in our community, and I've thoroughly enjoyed diving into the events that I have had the privilege to be involved in and look forward to continuing my work with these organizations as well as others."
About Brandon Shreves, Shreves Insurance
Born and raised in Mobile, AL, Brandon Shreves offers a variety of products and services, which include auto, home and property, life and health insurance, as well as banking products. He also offers a wide array of plans that can build cash back and cover financial service needs. For more information, please call (251) 219-7800.
About the NALA™
The NALA offers small and medium-sized businesses effective ways to reach customers through new media. As a single-agency source, the NALA helps businesses flourish in their local community. The NALA's mission is to promote a business' relevant and newsworthy events and achievements, both online and through traditional media. For media inquiries, please call 805.650.6121, ext. 361.