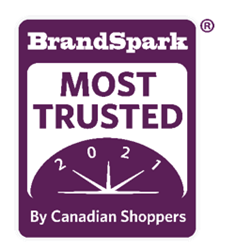 TORONTO (PRWEB) October 20, 2020
The 8th annual BrandSpark® Most Trusted Awards ("BMTA") voted on by over 10,000 Canadian shoppers reveal that COVID-19 factors have impacted Canadians' trust barometer when it comes to Service, Online/Apps, E-Commerce Stores, Grocery Stores and Restaurant chains. The findings reveal that 13% of consumers said that there was an E-Commerce site whose COVID-19 response increased their trust during the pandemic and 23% said there was a Service Provider who did the same. Telecom service providers, traditionally the target of consumer complaints, are dialing up praise for offering customers discounted plans and supporting communities with donations. Conversely, 15% of consumers noted an ecommerce retailer or service provider that lost their trust since COVID-19. This trust erosion was due to the perception that prices were raised, deliveries delayed, and businesses not appearing to support their workers.
"Building consumer trust is one of the most effective ways to grow and sustain market share during volatile times like these," said Robert Levy, President of BrandSpark International. "While the dramatic spike in online shopping has led to broader exposure of an array of brands, the survey findings show consumers still gravitate to brands that provide consistency, quality and fair prices, and are relied on by other consumers. However, those brands must act with integrity, and those that do are being rewarded with customer loyalty."
Participants voted for the brands that they trust most in 97 categories including several that have become increasingly important in pandemic times, such as Video Conferencing Apps, Online Document Signatures, Grocery Delivery and Streaming Services. BrandSpark runs these independent and exclusive Awards each year to help consumers shop smarter. The results are based on the most comprehensive trust study in Canada, the BrandSpark® Canadian Trust Study.
"With more consumers logging more hours online, brand behaviour is being magnified," said Adam Bellisario, Program Manager. "Brands and marketers need to use these historical times to positively impact Canadians' lives in meaningful ways. Corporate citizenship and brand trust will be inextricably linked for the foreseeable future."
Study highlights:

Displaying their trust leadership in multiple categories, the following service brands each had two wins: Bell (High Speed Internet Provider and TV Service Provider (tie)), CAA (Roadside Assistance Provider and Travel Insurance Provider), Intact (Home Insurance Provider and Full-Service Auto Insurance Provider).
Zoom, the online video conferencing platform that has helped many businesses and families stay connected during the pandemic, had a 43% margin of trust over its next closest competitor, Microsoft Teams. This contrasted with Zoom's 60% margin of trust in the United States, showing Canadians are more divided on their Video Conferencing App of choice.
Disney+ (Online Streaming Service for Kids) and learning app/site ABCmouse (Children's Learning App) are two of the most trusted ways to keep kids busy at home.
The following retailers all ranked ahead of Amazon, highlighting that it is possible to keep up with Amazon: Sephora (Cosmetics), Home Depot (Home Improvement / Renovation), Golf Town (Golf Clubs and Accessories), La Senza (Women's Lingerie), Sport Chek (Athletic Shoes), and Staples (Office Supplies). Other specialty retailers such as PetSmart (Pet Food & Supplies), Michaels (Craft Supplies), Sport Chek (Sporting Goods), The Bay (Women's Luxury Fashion), and Wayfair (Home Décor & Furnishings) all tied with Amazon as most trusted in their respective categories.
The following is the list of Gold Winners that Canadians trust the most. To see the Silver and Bronze winning brands or learn more: visit http://www.BrandSparkMostTrusted.com
Category – Services
Alarm Service: ADT
Car Rental Service: Enterprise
Cellular Service Provider: Telus
Credit Union (National): Desjardins
Credit Union (West): Coast Capital / Vancity (TIE)
Credit Union (Ontario): Meridian
Credit Union (Quebec): Desjardins
Discount Auto Insurance Provider: belairdirect / Intact (TIE)
Discount Cellular Service Provider: Freedom / Koodo (TIE)
Flower Delivery Service: Bloomex / FTD (TIE)
Full-Service Auto Insurance Provider: CAA / Intact (TIE)
Gas Station: Esso / Petro Canada (TIE)
High Speed Internet Provider: Bell
Home Insurance Provider: Intact
Junk Removal Service: 1-800-GOT-JUNK?
Life Insurance Provider: Sun Life
Loyalty Program: PC Optimum
Meal Kit Delivery Service: GoodFood / HelloFresh (TIE)
No Fee Credit Card: PC Financial Mastercard
Oil Change Service Chain: Mr. Lube
Online-only Bank: Tangerine
Pest Control Service: Orkin
Real Estate Agency / Brokerage: RE/MAX
Roadside Assistance Provider: CAA
Supplemental Health Insurance Provider: Blue Cross
Tax Preparation Service: H&R Block
Tire Sales & Service Provider: Canadian Tire
Travel Insurance Provider: CAA
Travel Rewards Credit Card: BMO Air Miles Mastercard
TV Service Provider: Bell / Shaw (TIE)
Weight Loss Program: Weight Watchers (WW)
Category -- Online/Apps
Antivirus Software: Norton
Artisan Marketplace: Etsy
Buy and Sell Website: Kijiji
Children's Learning App: ABCmouse
Credit Score Checking Site: Borrowell / Credit Karma (TIE)
Fitness Tracking App: Fitbit
Food Delivery App: SkipTheDishes
International Money Transfer Site/App: Paypal
Internet Radio App: iHeartRADIO / Spotify (TIE)
Job Site/Employment Classifieds: Indeed
Language Learning App: Duolingo
Local Deals Site: Kijiji
Music Streaming Service: Spotify
Online Document Signatures: DocuSign
Online Golf Booking: GolfNow
Paid Membership Dating Site: Match.com / Tinder (TIE)
Ride Sharing App: Uber
Short-term Rental Booking Site: Airbnb
Site for Printing Services: Staples / Vistaprint (TIE)
Streaming Service for Kids: Disney+
Streaming Service for Quality Content: Netflix
Tax Preparation Software: TurboTax
Vacation Booking Site/App: Expedia
Video Conferencing App: Zoom
Website Builder/Platform: Wix
Website for Health Information: WebMD
Website for Online Doctors: Maple
Category -- E-Commerce
Athletic Shoes: Sport Chek
Bedding & Linens: Amazon
Books: Amazon
Contact Lenses: Clearly
Cosmetics: Sephora
Craft Supplies: Amazon / Michaels (TIE)
Electronics: Amazon
Glasses/Prescription Eyewear: Clearly
Golf Clubs and Accessories: Golf Town
Grocery Delivery (National): IGA / Instacart / PC Express / Walmart (TIE)
Grocery Delivery (West): Instacart / Save-On-Foods (TIE)
Grocery Delivery (Ontario): Instacart / PC Express / Walmart (TIE)
Grocery Delivery (Quebec): IGA
Grocery Pick-up: PC Express
Health & Wellness: Amazon
Home Décor & Furnishings: Amazon / Wayfair (TIE)
Home Exercise Equipment: Amazon
Home Improvement / Renovation: Home Depot
Home Office Equipment: Staples
Home Office Furniture: Staples
Men's Activewear: Amazon
Office Supplies: Staples
Outdoor Gear: Amazon
Pet Food & Supplies: Amazon / PetSmart (TIE)
Sporting Goods: Amazon / Sport Chek (TIE)
Women's Activewear: Amazon
Women's Lingerie: La Senza
Women's Luxury Fashion: Amazon / The Bay (TIE)
Category -- Grocery Stores & Restaurant Chains
Conventional Grocery Store (National): IGA / Metro / Real Canadian Superstore (TIE)
Conventional Grocery Store (West): Real Canadian Superstore
Conventional Grocery Store (Ontario): No Frills
Conventional Grocery Store (Quebec): IGA
Conventional Grocery Store (Atlantic): Sobeys
Discount Grocery Store (National): No Frills
Discount Grocery Store (Quebec): Maxi
Restaurant Chain for Family Dining: Swiss Chalet
Restaurant Chain for Healthy Food Options: Freshii / Subway (TIE)
Restaurant Chain for Takeout/Delivery: McDonald's
Restaurant Chain for Upscale Casual Dining: The Keg
How Winners are Determined
More than 10,000 Canadian shoppers determined the BrandSpark Most Trusted Awards winners for Services, Online/Apps, E-Commerce, Grocery Stores, and Restaurant Chains through their "top of mind" unaided responses for the brand they trust most in categories they had shopped. Results are ranked based on volume of mentions and ties are declared if the margin of victory is within 3%. Silver and Bronze winners were declared in categories where the 2nd and 3rd most trusted brand exceeded at least 10% of mentions. The questions were included in the annual BrandSpark Canadian Trust Study with results weighted to be nationally representative.
Learn more from BrandSpark's Trust & Stubbornness Research
BrandSpark has extensive research available from the Study to help leading and challenger brands alike understand their trust positioning and gain critical insights into how to improve upon it. Fundamental to this research is what BrandSpark calls brand stubbornness, which identifies how resilient or vulnerable a brand's trust share is, and performance on the eight underlying drivers, ranging from quality to transparency. With analysis provided in relation to direct competitors, winner benchmarks and comparisons to the U.S. (available in most categories), BrandSpark can provide a level of depth typically reserved for custom research studies. Brands appearing in any of the categories can contact BrandSpark for a free topline overview of the research.
About BrandSpark International
Founded in 2001, BrandSpark International is a research and consulting firm that provides brands with the insights they need to understand the omni-channel shopper, refine their strategic brand positioning, build consumer trust and improve the success of their new product launches. BrandSpark Marketing Services runs major awards programs the Best New Product Awards, BrandSpark Most Trusted Awards and Shopper Army.com - a leading shopper community and digital promotions platform.
Permission and authorization are required in order to reference the BrandSpark Most Trusted Awards win or use the claim or logo. For licensing information, interview requests, or a free topline presentation of the research please contact:
Adam Bellisario, Director, Consumer Awards, abellisario@brandspark.com
Robert Levy, President, rlevy@brandspark.com