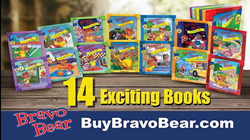 For a limited time you can save 50% on launch preorders.
JUPITER, Fla. (PRWEB) August 06, 2020
The Hainsworth Company, http://www.BuyBravoBear.com, an innovator of children's positive value and character building books, is thrilled to announce that the company is offering a special 50% discount on preorders for this wonderful children's book series through indiegogo at https://igg.me/at/bravobear. The Bravo Bear adventure book series consists of 14 real to life adventure books specifically designed to build strong reading skills and to illustrate to children positive character traits and build a strong sense of self worth and esteem. Children who read the Bravo Bear series are provided a strong positive influence that builds a foundation for a lifetime of significant benefits. The stakes are high; character building at the early ages of development will have a wonderful lifelong effect on a child's personality and behavior. Research shows that people develop the majority of their lifelong behavior patterns by the time they reach the age of seven years.
"I am thrilled over the creation of this wonderful children's book series and excited to offer it at a special preprint discount of 50% off. So many positive tools are needed to educate children these days. I'm looking forward seeing this book series have a positive influence on millions of kids," stated company President Christian Hainsworth.
For more information on this book series offer, please visit the Company's website at http://www.buybravobear.com, call 561-262-7174 or email at christian@bravobear.com
Contact: Christian Hainsworth