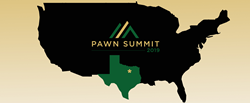 "Top Notch. A must for the pawn broker."
LAS VEGAS (PRWEB) November 12, 2019
Aiming to provide pawnbrokers with cutting edge knowledge and best practices, Bravo Pawn Systems, in association with Pawnshop Consulting Group, launched Pawn Summit on October 5th, 2019. Pawn Summit is a two-day event in which attendees took part in exclusive seminars, panels, round-table discussions, and workshops.
Bravo provided users with a unique opportunity to receive personal guidance and instruction on features of their leading point of sale program. Attendees were able to sit with a Bravo expert and get hands-on training for features of their choice.
Dates for Pawn Summit 2020 are to be announced soon as it is sure to impress.
About: Bravo Pawn Systems specializes in SaaS point-of-sale software for the pawn industry. Established in 1988, Bravo POS was designed by pawnbrokers for pawnbrokers. As the leading Microsoft Azure cloud-based pawn software system on the market, Bravo strives to enable pawnshops to grow their business by providing continually enhanced features and world-class customer service to help them compete with national big box stores. For more information, visit bravopawnsystems.com or follow us on Facebook, Twitter, LinkedIn, and YouTube.