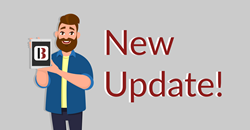 Innovation has always been at the center of Bravo's mission. We closely work with our customers every day to perfect Bravo and this update is opening up a whole world of new Benefits for Bravo users.
LAS VEGAS (PRWEB) November 04, 2019
Bravo Pawn Systems is a point-of-sale, e-Commerce and mobile platform for the pawn industry. Launched in 2011, Bravo is the only pawn software developed by pawnbrokers for pawnbrokers. As the only Microsoft Azure cloud-based pawn software system on the market, Bravo strives to enable pawnshops to grow their business by providing innovative technology and world-class customer service to help them compete with national big box stores. As part of this commitment, Bravo has released a massive new update that includes multiple features that streamline day-to-day operations for pawnbrokers.
Here's what's new:
Bravo is helping you get chosen every time with Bravo Reviews. Bravo Reviews enables you to send a link to your Google, Facebook, Yelp, and City Search accounts directly from the transaction screen. New customers will find you first and you'll see more door swings.
Bravo's going green! Our new E-Receipts allow you to text a receipt to your customers at the end of a transaction. If you have a company-branded site, you'll be able to fully customize the banners and advertising.
Other updates include:

Customer Suggestion: Show and allow edit of ATF records in the Estimator screens.
Customer Suggestion: Configuration to have Pricing Estimator Quality Assessment questions optional when pricing items
Updated Report Preview functionality
Ad-Hoc Column Chooser enhancements. Search feature and quick add/subtract checkbox