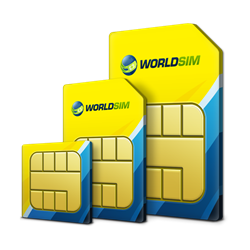 Brazil data bundles will enable travelers to use just as much data as they do at home without having to worry about the excessive costs of data roaming
London, UK (PRWEB) July 21, 2016
With 500,000 people estimated to travel to Brazil this summer for the Olympics, the average cell phone usage could end up costing as much as $915 per day. WorldSIM have today launched international data bundles for travelers heading to Brazil, these bundles will save travelers as much as 99% on their data roaming charges and enable users to stay connected for just $3 a day (based on average daily usage in the US).
The WorldSIM data SIM works in any unlocked device, whether is a tablet, iPad, portable router or cell phone. Users simply add a Brazil bundle to their WorldSIM SIM card and they will benefit from 1GB of data.
WorldSIM's 1GB Brazil data bundle will cost just $50, which works out to just 5 cents per megabyte. Popular US network providers are charging as much as $15 per megabyte in Brazil, giving WorldSIM users a saving of $14.95 per MB. In the US the average daily data usage is 61 MB (according to Mobidia, who analyzes data from hundreds of thousands of wireless subscribers.) That means US residents heading to the Olympics this year could be spending as much as $915 per day just to stay connected.
WorldSIM CEO, Arif Reza commented "Roaming rates in South America are notoriously high and travelers that want to stay in contact with family and friends back home could pay a small fortune. Our Brazil data bundles will enable travelers to use just as much data as they do at home without having to worry about the excessive costs of data roaming."
About WorldSIM
WorldSIM is the world's leading mobile roaming solution provider, delivering innovative products and services that enable travelers to stay connected affordably wherever they are. For more than 10 years, WorldSIM has been reducing the cost of international roaming and simplifying traveling with their introduction of innovative travel gadgets and accessories.
Find out more at http://www.worldsim.com