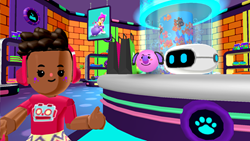 "Afterverse was born with a broader mission of focusing on a diverse variety of audiences of all ages, including children, teens and adults located around the planet," said Breno Masi, Afterverse CEO and PlayKids' co-founder
SÃO PAULO, Brazil (PRWEB) December 03, 2020
More than U.S. $120 billion was spent worldwide on gaming last year, surpassing the film and music markets, according to Nielsen's SuperData. The gaming segment's continued growth and success, coupled with the positive results from its first product lines, led the PlayKids' management team and investors to decide to expand the company portfolio and create a new business unit focused on social games for all ages: Afterverse.
Afterverse's first flagship game PK XD, which has grown to more than 25 million users in just one year since its launch, has proven to be wildly popular among pre-teens and young people. The sandbox game, which places only minimal limitations on the characters, has also conquered an adult audience.
"Afterverse was born with a broader mission of focusing on a diverse variety of audiences of all ages, including children, teens and adults located around the planet. The new brand unit groups current games from our portfolio that are already very successful with people of these age groups worldwide and future releases are in development," said Breno Masi, PlayKids' co-founder and one of the creators of the new Afterverse business unit.
Afterverse's mission is to break down physical, social and cultural barriers through its games. Proof of this are the more than 150 content creators from around the world who are partners of PK XD and regularly produce videos about launches or news in a variety of languages. This is one key brand differentiator: the tight-knit community of global game players. In addition to PK XD, the current Afterverse portfolio includes Crafty Lands, which have more than five million players today.
"Afterverse has a bigger field of action, and as long as its players practice fair play, don't violate our values and maintain the community atmosphere that we cherish, Afterverse will continue to break gaming paradigms and grow rapidly around the world. We have built a new brand that lets people explore the multiverses of mobile social games. Afterverse will help reshape how people interact with games, especially social games," said Masi.
The creation of the new brand arose from the natural need of Masi and his team to position its games with a broader audience, use the team's creativity to bring more possibilities to the gaming sector, and present users of all ages and all regions of the world with new options for entertainment and online fun in a more complete way, especially with many countries continuing to remain in lockdown due the global pandemic.
Afterverse intends to further globalize its flagship game, PK XD, and to reach more global gamers in markets still little explored by the Brazilian game industry. Partnerships with companies, such as Sanrio, and with renowned content producers, such as Authentic Games and Gato Galactico, are already a reality.
"We have received numerous gameplay videos about PK XD in Arabic, English, French, Russian and Spanish, among other languages. We see a huge potential to transform Afterverse into a large global community of people looking for online fun and safe form of entertainment, according to their preferences. We give players the opportunity to further expand the universe of each of our creations," said Masi.
"Where there is a cell phone and internet connection, Afterverse will be there," said Masi. "Afterverse allows us to dream big and build collaborative worlds. We want to take these dreams to people of all ages, on all continents, and ensure that all our players feel welcome in our games."
About Afterverse
Afterverse unites creativity, innovation and entertainment to break down physical, cultural and social barriers through their games. The new business unit was born with the desire to transform the gaming market around the world and produce games that are unforgettable for generations. With fairplay and safety as two essential pillars, Afterverse will expand its portfolio of games to attract all ages and interests and form global communities around its games.
About PK XD
With more than 25 million monthly users, Afterverse's PK XD is a sandbox game for people of all ages that provides a safe environment where players can interact with friends, purchase new items, personalize their avatars, their own homes and even their pets, among other new features that are released weekly. PK XD has a network of content creators, partners who develop exclusive content about the game, first-hand.
###
Media Contacts
Brazil:
Olivia Nercessian
+55 11 95433-0000
olivia.nercessian@movile.com
United States:
Chris Knight
415) 786-9226 c.
chris@divinogroup.net