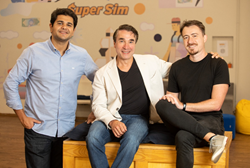 SuperSim's Series A financing puts us on a path to triple revenues in 2022 and generate immediate, sustainable profitability
SÃO PAULO (PRWEB) January 17, 2022
SuperSim, a credit fintech focussed on bringing financial inclusion to working-class Brazilians, has closed a Series A financing led by IDC Ventures, with participation by several new and existing investors, raising over US$5 million in equity capital.
According to the co-founders, the capital will be used to invest in the loan book, to grow the team and to finance the rollout of new products and services out of pilot. The company has also recently raised over US$25 million through a securitized debt offering via a special purpose vehicle in the Brazilian market. That debt financing was structured by Milênio Capital, with participation by several large Brazilian blue-chip fixed-income investors and asset managers.
"The Series A capital raise is a key component of our strategic plan to become a leading player in personal credit in Brazil, which is one of the most interesting personal credit markets in the world today", says one of the co-founders and the company's President and Chairman, Daniel Shteyn. "However, SuperSim is not simply a lender. Our mission is to bring financial inclusion that works in practice to millions of underbanked Brazilians. We do this by building a business at scale, with sustainable profitability and a tangible social benefit. We take non-prime consumers and help them build a positive track record of on-time repayment. We then use this track record to help our customers access prime credit, typically following 24-36 months of building payment history via microcredit."
SuperSim has already achieved some scale, with a record day in November 2021, when it funded over 5,000 loans in a single day. According to Mr. Shteyn, the company is aiming to take a 10% share of the Brazilian market for non-prime personal loans, representing approximately 1% of the country's entire market for personal loans, or a customer base in the millions of people. Funding volume during 2021 grew by 1,000%, relative to 2020.
Antonio Brito, CEO and co-founder, adds that SuperSim's rapid growth and profitability is directly related to its competitive advantages and differentiation, as well as a clear read of its customers' needs. "Each and every startup is in the business of delighting the customer, whether it knows it or not. For our customer, this means getting her credit request approved, whether she is underbanked, low-income or credit impaired. Normally, this type of customer profile implies higher defaults for the lender. However, SuperSim was built to control risk while approving more applications than anyone else in the market. We do this due to our experience in the field and our differentiated technology, which uses the applicants' phones as collateral for the loan. This is why we're already profitable, only a few years after launch."
Loan amounts currently vary between BRL 250 and BRL 2,500 (or approximately 50 - 500 USD), with interest rates being competitive with a mainstream credit card - which SuperSim's customers typically can't qualify for. Rates decrease over time, as the customer proves her capacity to repay, therefore reducing risk. SuperSim estimates that there are more than 100 million underbanked Brazilians, with access to a bank account but without adequate access to credit. "We are proud of our team of over 180 people, who work hard every day to bring financial inclusion to millions of under-banked people," concludes Mr. Shteyn.
Rodrigo Rodas, Managing Partner of IDC Ventures, said: "We are excited about our investment in SuperSim. The founding team is building something unique by combining innovative technologies with deep experience in the Brazilian credit market. This funding round is the first step towards achieving SuperSim's mission of providing access to credit to millions of Brazilians. The team has performed beyond our expectations thus far, and we expect more great things in the future."
Gustavo Ahrends, Managing Partner of Milênio Capital, said: "We are pleased with our partnership with SuperSim, where the co-founders are building one of the most innovative credit fintechs in Brazil. The local market for personal loans is undergoing rapid change and we are committed to supporting bright minds who are reshaping the way people access credit. Microcredit is a valuable tool for credit-impaired or low-income consumers who would otherwise be cut off from access to credit. SuperSim allows customers to access small loans safely and with a view to improving their loan conditions over time, thus creating financial inclusion that works in practice."
About SuperSim (http://www.supersim.com.br): SuperSim is an online lender focused on tech-enabled financial inclusion for the working class in Brazil. It is licensed as a bank correspondent and offers B2C and B2B2C credit products, including microcredit-sized phone-backed loans and "Lending As A Service" for corporate partners.
About IDC Ventures (http://www.idcventures.com): Headquartered in Madrid with offices in Copenhagen and Miami, IDCV seeks to identify, invest in, support, and propel disruptive companies at the forefront of digital innovation focused on fintech, marketplaces and the platforms that support them.
About Milênio Capital (http://www.milenio.capital): Focused on the wholesale credit market, Milênio Capital supports companies with customized solutions structured throughout the credit cycle. Differentiated via extensive credit expertise and proprietary technology, Milênio is committed to delivering efficient, innovative, and scalable solutions to partners to democratize access to credit and to foster business in Brazil.
Press and Investor Contacts
Daniel Shteyn, President – ir@supersim.com.br