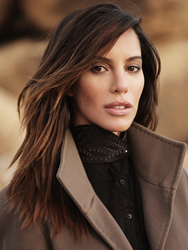 "I treat my roles with great zeal, each character has his story, his traumas, and his choices."
LOS ANGELES (PRWEB) August 04, 2020
Larissa Andrade Los Angeles based model and actress has landed a role in the remake of the television series 'Professionals,' opposite stars Brendan Fraser best known for his role in 'The Mummy' and Tom Welling of the popular series 'Smallville.' It is a remake of the (2012) action movie 'Soldiers of Fortune.' Andrade will portray the role of the character Eva Sandoval, the love interest to Welling's character Vincent Corbo. Andrade was first known to the world as a Brazilian Top Model and has beautifully transitioned from international model to actress.
Andrade will also star in the film 'Habit,' starring Libby Mintz and Bella Thorne. The film tells the story of a street-wise party girl who gets involved in a drug deal and masquerades as a nun. Andrade states, " I have a lot of love for acting. The more time passes, the more I understand that modeling was a preparation to act in my life. I treat my roles with great zeal, each character has his story, his traumas, and his choices." Andrade considers being a working actor in Hollywood a dream fulfilled.
Andrade was first known to the world as a Brazilian Top Model. Andrade's modeling career has allowed her to be featured in international campaigns for major brands such as Mercedes Benz, Armani, Armani Exchange, Dsquared, Adriana Fernandez, Blue Man, and O Boticario Riachuelo. Since transitioning into acting, Andrade, wife of Barclays banker Roger Jenkins has taken her entrepreneurial spirit and knowledge to become the CEO of a new wellness and beauty brand Gaea Organica launching later in 2020.
For media inquires:
Caico De Queiroz, Agent
55+ 11 5054-2606
Larissa Andrade Contact Information
IMDB: https://pro.imdb.com/name/nm9690266?ref_=hm_nv_mp_profile
Website: http://www.larissaandrade.com
Instagram: https://www.instagram.com/ilarissaandrade/