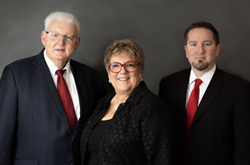 ANGLETON, Texas (PRWEB) February 17, 2021
The COVID-19 pandemic has changed life for many families this year, and this also extends to the divorce mediation process. The Brazoria County, Texas family law attorneys of Terry & Roberts share their advice on how couples can navigate divorce mediation in the midst of a pandemic.
What Is Divorce Mediation?
Divorce mediation involves the two spouses, their attorneys, and a third-party mediator who facilitates a discussion regarding the resolution of a divorce. If successful, even in part, a mediation can generate an agreement among the parties. Mediation agreements do not have to cover all outstanding issues in a divorce, but when parties can agree on at least some topics, alternative dispute resolusion saves them both time in court and money that would be spent on additional legal costs.
A mediator is not a judge and cannot issue a formal ruling, but once a couple reaches an agreement, their attorneys can present it to the court for judicial approval.
Virtual Divorce Mediation During COVID-19
As with many other fields, the COVID-19 pandemic has brought about new innovations in the field of law – and virtual divorce mediation is one of them. Virtual mediation is now easily accessible and it's become increasingly popular because it means attorneys, spouses, and mediators don't need to travel to meet in person for mediation.
Virtual mediation allows couples to continue with divorce proceedings despite the roadblocks imposed by the pandemic. All parties can be present virtually, adhering to social distancing guidelines and stay-at-home orders. This also removes the inconvenience of having to travel, paying for parking, and taking time off of work in order to attend an in-person mediation session.
Terry & Roberts suggests that parties arrange a trial run to ensure that there are no connection issues or other impediments to conducting a virtual mediation. Both spouses should also feel comfortable speaking about personal issues over Zoom, Skype, or their preferred virtual meeting platform. If one or both parties feel unable to be candid in an online meeting environment, it may be best to wait until in-person mediation is feasible.
About Terry & Roberts
Terry & Roberts is a Texas family law firm whose attorneys are deeply committed to advocating for the rights of their clients. Contact the firm by calling 979-849-4387, visiting their website at https://terryandrobertslaw.com, or making an appointment to see them at 203 East Cedar, Angleton, TX 77515.