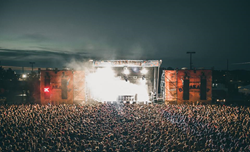 We have chosen to expand on the idea of 'breaking away from the every day' because this festival experience is like no other." -Adam Lynn, managing partner Prime Social Group
Charlotte, North Carolina (PRWEB) May 24, 2017
The Breakaway Music Festival brand began in Columbus, OH, in 2013 by festival organizers (and full-scale promotions company) Prime Social Group. It quickly grew into a two-day, multiple stage festival bringing exceptional names like Chance The Rapper and Kendrick Lamar to an otherwise under-developed music market. In 2016, the festival was attended by approximately 25,000 people.
"We have chosen to expand on the idea of 'breaking away from the every day' because this festival experience is like no other," explained Adam Lynn, managing partner of Prime Social Group. "It combines an urban aesthetic with a carefully curated, multi-genre lineup which allows festival goers of all ages and music preferences to enjoy unforgettable weekends no matter where they live."
Charlotte was chosen as the third market to bring Breakaway Music Festival to because of what Lynn says is a "music loving, open-minded and intelligent mix of young professionals" that resonate well with the festival brand.
Early Bird tickets are on sale now for $30 in limited quantities! For more ticketing options plus information on topics including vending, local support or general festival inquiries visit http://www.BreakawayFestival.com! You can find us on Facebook, Instagram and Twitter using hashtag #BreakawayCharlotte and by following @BreakawayFest.