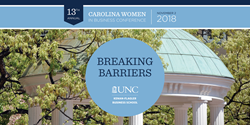 CHAPEL HILL, N.C. (PRWEB) October 05, 2018
Carolina Women in Business (CWIB) will host its 13th annual conference at the University of North Carolina Kenan-Flagler Business School on Friday, Nov. 2, 2018.
"Breaking Barriers," this year's theme, is centered on how women have achieved career success in the face of adversity across specific industries. CWIB is a student-run organization providing the women of UNC Kenan-Flagler with opportunities for career and community development and networking opportunities in preparation for their post-MBA journeys.
Mary Shelton Rose (BSBA '87, MAC '88), east region vice chairman at PwC, will give the keynote address. Vanessa Wittman (BSBA '89) will participate in a She-suite Fireside Chat. She is director and former CFO of Oath, and former CFO of Dropbox, Motorola and Marsh & McLennan. An "Entrepreneur Spotlight" will feature Clean Juice founders Kat and Landon Eckles.
Workshops will explore "Managing Up" with Mary Abbajay, CEO of Careerstone Group; "Centered Leadership and Diversity" with McKinsey & Co.; and "Bringing Work and Life into Balance."
Panels focused on women in business include "Gender Imbalance in the Boardroom," "Women Leading in Entrepreneurship," "Make Your Mark in the Future of Tech," "Raising the Bar in Real Estate" and "Women Leaders in Consulting"
Conference sponsors include Amazon, Wells Fargo, Liberty Mutual, Cisco, Clean Juice, Republic Services, Reynolds American, Cognizant, Corning, Tata Consulting Services, BASF and Harris Williams & Co.
The event will run from 8 a.m. to 4 p.m. and is open to all UNC students, faculty, staff, alumni and members of the business community. It is one of the largest student-run conferences held at UNC Kenan-Flagler. Click here for additional information and to register.
###
About the University of North Carolina Kenan-Flagler Business School
Consistently ranked one of the world's best business schools, UNC Kenan-Flagler offers a broad range of programs – Undergraduate, MBA and Master of Accounting, PhD and Executive Development – and extraordinary, real-life learning experiences. Faculty demonstrate unparalleled dedication to students' learning and a commitment to world-class research that addresses critical business challenges. Contributing to the School's thought leadership is the Frank Hawkins Kenan Institute of Private Enterprise, which promotes innovative, market-based solutions to vital economic issues. UNC Kenan-Flagler's collaborative culture is rooted in core values that date back to its founding in 1919, and graduates are renowned as effective, principled leaders with the technical knowledge and leadership skills to deliver results in the global business environment.