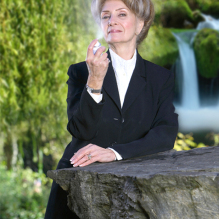 Kleyne teaches that water is your health. "What we are learning today," Kleyne concludes, "is that health education is vital to all. Even if you live in a hut in the jungle, learn health education!"
GRANTS PASS, Ore. (PRWEB) March 18, 2020
Air Date: 16th March 2020
Guest: Rodrigo L. Romulo, MD, Adjunct Professor at Brown University Program in Infectious Diseases, Providence, Rhode Island; Board Member at Bon Secours Hampton Roads and the General Douglas MacArthur Foundation; Practice at Bayview Infectious Disease Consultants, Chesapeake, Virginia
https://www.voiceamerica.com/episode/122421/encore-infectious-disease-101-the-fundamentals-of-controlling-and-fighting-infectious-disease
Rodrigo L. Romulo, M.D., and international infectious disease consultant, makes clear on Kleyne talk radio that "Priority number one should be breaking the chain of transmission of the Coronavirus. Hydration should also be emphasized just as you say," he adds replying to a water question by host Sharon Kleyne.
Kleyne, an internationally respected body water evaporation and new water technology researcher who has studied water and water evaporation for more than thirty years, recalls the ebola crisis that was curtailed by having the afflicted drink a gallon a day of a solution of water, salt and sugar. "Why do you think they only thought about this solution during the Ebola problem? she asks Romulo.
"I can't comment on that," says Romulo, "but it's now recognized that hydration is very important."
"Are you a little surprised," asks Kleyne, "about influenza fatalities every year?"
"The influenza virus cycles every year," replies Romulo. "It has the ability to change how it looks to the immune system. Therefore, one vaccine does not protect you from the virus every year. Even though that annual flu shot doesn't provide you with a high degree of protection, it helps prevent the virus from spreading even more. Remember that influenza killed over a 100 million people worldwide in 1918-19. The flu has been around for a long time."
"Forever!" adds Kleyne. "Tell us what you've learned about the Coronavirus."
"Coronavirus is quite the dangerous virus," teaches Romulo. "It is transmitted as a respiratory droplet expelled from people who have symptoms like coughing & sneezing. The droplets land on surfaces and then can infect others."
"So, the virus doesn't float through the air?" asks Kleyne. "It goes through the skin with people touching things?"
"Yes, that is exactly right," says Romulo. "Vaccines," he explains, "stimulate the immune system to create a series of antibodies that fight the virus."
"What about people dying of pneumonia?" Kleyne asks.
"Death by pneumonia," says Romulo, "is usually the result of a complication of serious illness. It is not a natural consequence." The current virus crisis, Romulo advises, encourages us "to have a heightened sense of your habit of touching your face, and have a heightened sense of personal hygiene practices like handwashing…"
"Forever!" Kleyne adds. "Do it forever." Kleyne also wonders how we can get people under a lot of stress to relax. "Relax!" says Kleyne. "Slow, learn, enjoy that learning about what you need to do. I bump into a lack of education about the organs of the body," Kleyne adds. "The organ of the skin is not understood. People with dry skin may be more prone to the virus."
Kleyne teaches that water is your health. Every organ of the body requires daily supplementation with 100 percent pure water. Drinking enough water every day flushes toxins out of the body. "What we are learning today," Kleyne concludes, "is that health education is vital to all. Even if you live in a hut in the jungle, learn health education!"
*
If you would like to listen to the internationally syndicated The Power of Water® & Your Health sponsored by Nature's Tears® EyeMist® on VoiceAmerica and produced by Rose Hong, founder and director of Global Dragon TV in Washington, D.C., featuring Rodrigo L. Romulo, MD, Adjunct Professor at Brown University Program in Infectious Diseases, Providence, Rhode Island; Board Member at Bon Secours Hampton Roads and the General Douglas MacArthur Foundation; Practice at Bayview Infectious Disease Consultants, Chesapeake, Virginia and Health Olympics new water technology educator and evaporative dry eye researcher Sharon Kleyne as they discuss Coronavirus, infectious disease, proactive care, education, water and evaporation, follow this link:
https://www.voiceamerica.com/episode/122421/encore-infectious-disease-101-the-fundamentals-of-controlling-and-fighting-infectious-disease
*
If you would like to watch a very brief, entertaining educational film that demonstrates the application of the new Dry Eye Solution® technology Nature's Tears® EyeMist®, sponsor of Sharon Kleyne's talk radio program, go here: https://www.youtube.com/watch?v=l0gOr8TB45U