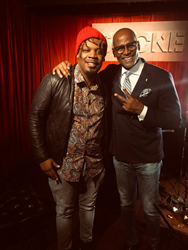 Racism is one of the most urgent challenges facing humanity
JACKSONVILLE, Fla. (PRWEB) March 02, 2021
Khalil Osiris, Founder of Truth & Reconciliation Conversations and Reflecting Freedom Network, is pleased to announce the launch of the 2021 Truth & Reconciliation Conversations (TRC) Global Summit. Taking place from July 18-19 this year, it will bring together a global audience of changemakers who pledge to combat racism in their communities, including educators, students, public servants, business leaders and activists.
Racism is one of the most urgent challenges facing humanity. Through truthful conversations, we can begin to navigate this challenge, paving the way to better understand one another. The TRC Global Summit will provide a blueprint for how these conversations can take place, using five key commitments to guide us.
Attendees will have access to engaging workshops and provocative on-stage panels with global leaders to deepen their understanding of how to communicate about race and what steps to take in order to move forward.
Opening on Nelson Mandela International Day (July 18), the Summit will premiere the 2021 Truth & Reconciliation Conversations documentary, that illuminates the process of reconciliation through the stories of men and women who have confronted racial challenges throughout their lives.
"Our aim is to encourage people to start talking about ending racism, and in so doing build a global movement for justice," says Khalil Osiris, founder of RFN and host of the documentary.
In a time when silence is no longer an option, it is more important than ever to start the conversation.
The event is supported by the Athens Democracy Forum.
Speakers and moderators
The event will be hosted by Khalil Osiris and moderated by Farah Nayeri (Culture Writer, The New York Times) and Alexandra Pascalidou (journalist, author and presenter).
The exciting speaker lineup, with more to be announced in the coming weeks, includes:

Nomathembo Thambo, South Africa's High Commissioner to the UK
The free event will be screened to a global, virtual audience and will also include a small, invite-only gathering at the Wellcome Collection, London.
Find out more and register at trcglobalsummit.org
Join the conversation on Twitter, Facebook, Instagram:
@trconversations using hashtag #trcglobalsummit.
Notes to editors
Media accreditation for the 2021 TRC Global Summit is currently open. Accreditation requests must be submitted to claire@trcglobalsummit.org by Thursday, July 15. Please note that availability of press passes is limited and there will be no on-site accreditation.
Contact: Claire Edwards, Marketing Director, TRC Global Summit
claire@trcglobalsummit.org