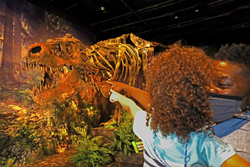 SUE has a spring fling with Bucky, take a 360 tour of Dinosphere®, and discover all things "dinosaur" in a virtual series called Dinos A to Z.
INDIANAPOLIS (PRWEB) March 08, 2021
Dinosaurs Galore! SUE, a world famous T. rex is spending Spring Break and summer vacation at the world's biggest and best children's museum. The Field in Chicago sent a full-sized cast of SUE (one of the largest, most complete, and best-preserved Tyrannosaurus rex ever unearthed) on a dino-mite vacation. The more than 40-foot-long, 13-foot high full-sized cast will be on display at The Children's Museum of Indianapolis from March 6—July 25, 2021. Welcoming SUE, is a cast of Bucky, the teenage T. rex who broke out of Dinosphere® under the cover of darkness, to greet SUE in the Sunburst Atrium. Bucky, the first juvenile T. rex ever put on display in a museum, was also the first T. rex to be identified with a furcula (collar bone). The close proximity of the adult and juvenile fossils clearly demonstrate the difference in their size.
Bucky is not the only dino to escape Dinosphere®. Several others including Dracorex hogwartsia are on display throughout the museum while Dinosphere® is closed to the public from March 8, 2021 –March 2022. Dinosphere® is undergoing a 'dinormous' expansion as part of a $27.5 million dollar project known as Mission Jurassic. Prepare to hear the roars of two giant, long-necked, four-legged sauropods unearthed in the Wyoming Jurassic Mile™, and feel immersed in an ancient sea with an ichthyosaur (extinct marine animal) and several other extinct marine animals uncovered in the same Jurassic Mile™ dig site.
Beginning March 8, 2021, The Children's Museum will offer a series of videos highlighting behind-the-scenes content about the new Jurassic experience (like how to mount a fossil, and how to safely move a fossil). Visit https://www.childrensmuseum.org/jurassic/the-exhibit to learn more. Take a 360 tour of Dinosphere®, and get the family together to learn everything "dinosaur" in a virtual series called Dinos A to Z. Throughout the year, look for museum paleontologists roaming the museum with carts full of fossils and fun, ready-to-answer probing questions from even the smallest of wannabe scientists. Additional virtual and on-site dinosaur-related information is available at http://www.childrensmuseum.org/dinosphere. Check often for updated content.
For time lapse video of the cast of SUE, go to this URL. Other video can be found here.
The Children's Museum of Indianapolis is proud to partner with Riley Children's at Indiana University Health, Old National Bank and Ice Miller LLP.
SUE is presented by Marian Incorporated.
About The Children's Museum of Indianapolis
The Children's Museum of Indianapolis is a nonprofit institution committed to creating extraordinary learning experiences across the arts, sciences, and humanities that have the power to transform the lives of children and families. For more information about The Children's Museum, visit http://www.childrensmuseum.org, follow us on Twitter @TCMIndy, Instagram@childrensmuseum, YouTube.com/IndyTCM, and Facebook.
About the Field Museum
The Field Museum is a forward-thinking scientific leader on a mission to explore, protect, and celebrate nature and culture. For over 125 years, the Field has taken part in groundbreaking research all over the world while maintaining one of the world's largest collections of artifacts and specimens, used to inspire discovery, spark public engagement with science, and uncover solutions for a better world. To share its scientific and educational mission, the Field welcomes 1.3 million visitors every year. For more information, visit us at fieldmuseum.org, or follow @fieldmuseum on social media.