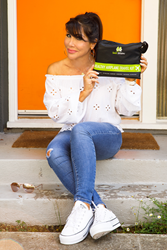 Seat Sitters™ believes in empowering the passenger to keep themself and their space clean when traveling especially during cold & flu season and with the corona Virus on the rise. — Gina Hoensheid, Founder and CEO
ROCHESTER, Mich. (PRWEB) February 25, 2020
Seat Sitters™ has partnered with Instagram phenomenon Passenger Shaming to provide health-conscious travelers with their signature Healthy Travel Kits™ to keep your space clean and sanitary while on the go! Seat Sitters' Healthy Airplane Travel Kit™ will now be available on Passenger Shaming's webstore (passengershaming.store) to help protect passengers from the disgusting realities of air travel that Passenger Shaming exposes. Seat Sitters believes in empowering the passenger to keep themself and their space clean when traveling especially during cold & flu season and with the coronavirus on the rise.
Passenger Shaming is a social media company that rose to prominence with user-submitted photos and videos of SHOCKING and DISGUSTING actions of airline passengers, proving that people do ANYTHING in public to remain comfortable on their flight. From bare feet on headrests to people urinating on the tray table, Passenger Shaming exposes the worst and most disgusting happenings that airlines don't want you to know about. Passenger Shaming currently has over 39 thousand Twitter followers, over 1.1 million Instagram followers, and was named one of Rolling Stone's 100 Best Instagram Accounts! Their posts have also been highlighted by Ellen DeGeneres on her beloved daytime talk show!
Founder and CEO of Seat Sitters™, Gina Hoensheid exclaimed, "We couldn't be more excited to align our brand with such a great company that shares the mission of healthier travel.
Be smarter when you travel, Take action to stay healthy and Don't get sick on your next trip. Visit SeatSitters.com for cleaner, healthier Travel. Kits are also available to order at Bed Bath & Beyond online and select retail stores. Seat Sitters has been featured on Forbes, Travel & Leisure, ABC World News, and voted USA Today's Best Gift for Family Travelers.